TORLYS at TISE: Celebrating 35 Years!
Discover the TORLYS S.M.A.R.T. Advantage at Booth 947.
TORONTO, ON – January 2023 – TORLYS, a global flooring company specializing in beautiful, responsible flooring solutions, is gearing up to celebrate its 35th milestone anniversary by showcasing its latest flooring innovations and continued commitment to Making Flooring Better at the International Surface Event (TISE).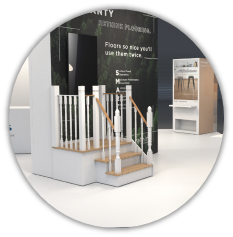 Held January 31st to February 2nd at the Mandalay Bay Convention Center in Las Vegas, Booth #947 centers around the TORLYS S.M.A.R.T. Advantage- which simplifies flooring by creating 1 simple solution across 5 flooring categories. To help tell this story are the featured attractions- two stunning staircases leading to giant interactive Smart Phones that show captivating video proofs on TORLYS S.M.A.R.T. Advantage.
The perimeter of the booth is divided into four key quadrants, each focused on a specific Smart Floor Category – Vinyl, Hardwood, Laminate and Naturals (Cork & Leather).  Take a tour through the world of premium flooring solutions, guided by 1 overarching story of features and benefits that are applicable across each category of Smart Floors. Also being introduced this year is TORLYS Smart Trims, a "spin off" of TORLYS Smart Floors, offering premium, waterproof and staircase solutions.
Along the back wall is the TORLYS Innovation timeline, where visitors can look back at where it all started in 1988 and follow along the journey as TORLYS paved the way in flooring design to become a trusted flooring leader for 35 years (and counting).
"TORLYS turned 35 in January 2023, and we are thrilled to kick-off our anniversary celebrations at Surfaces," said Peter Barretto, TORLYS President & CEO, adding, "The past three years during the pandemic have challenged all of us, but our TORLYS Team along with our Manufacturing Partners have risen to the occasion to provide exceptional support to our valued customers.  Together, we are ready, willing, and able to take on and grow regardless of whatever this recessionary year has in store."
As part of this special milestone, TORLYS is hosting a private in-booth cocktail party February 1st to celebrate with its valued dealers and manufacturing partners.
ABOUT TISE
The largest North American floor covering, stone, and tile industry event and is THE industry marketplace for buyers, specifiers, and influencers to source products, gain design inspiration and develop their businesses.
ABOUT TORLYS
Headquartered in Toronto, Ontario, TORLYS is a global flooring company that specializes in providing beautiful, responsible flooring solutions. TORLYS has been creating and delivering innovative flooring solutions to homeowners, builders, and property managers, using the latest technologies for 35 years and counting.
For further information, contact:
Leah Robinson, Digital Marketing & Communications Manager
Email: Leah.Robinson@torlys.com Phone: 905-696-2399
---