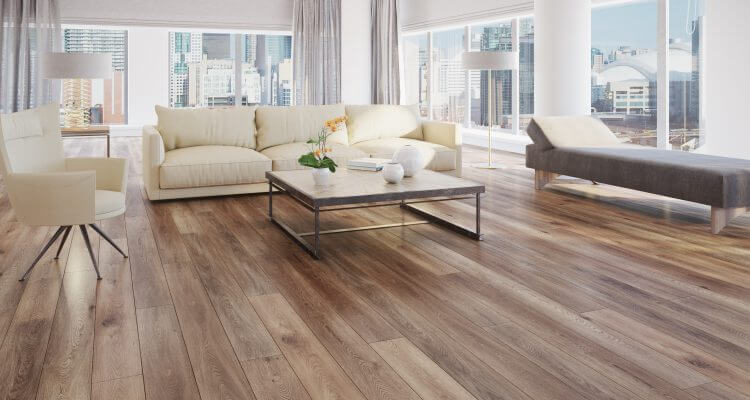 Introducing TORLYS EverWood Designer Collection!
TORLYS is proud to introduce the latest addition to our luxury vinyl series: EverWood Designer. This flooring features precision crafted planks with a wide and long specification (7"W x 72"L). The wood profiles have been carefully selected by our design team to reflect the latest trends in patterns, colours and textures. Every plank is softly embossed and features a fashionable four-sided bevel edge and a low-gloss finish. EverWood Designer is exactly what you want in a high quality floor—performance and looks!
Every EverWood floor is waterproof, warm, quiet and beautiful. However, this flooring has an extra-added benefit: Microban® antimicrobial product protection built into the cork backing. This protection helps your floor resist the growth of mould and mildew, making EverWood Designer one-of-a-kind for beauty and performance. No other luxury vinyl floor combines the unique scientific benefit of Microban® product protection with outstanding looks and high traffic durability. EverWood is also pet friendly*, waterproof and carries one of the best warranties in the industry.
Whether the space is a vintage cottage, an industrial loft or a modern suburban bungalow, EverWood Designer flooring fits perfectly. Its softly aged colour range and textured surface complement the natural character of the floor's design. Most importantly, you'll never have to compromise on style when you choose this flooring. To inspire you, here's a showcase of today's top interior trends featuring EverWood Designer floors.
*Protected for pet urine only.
The durability and beauty of EverWood's luxury vinyl planks make it the perfect flooring choice for a busy great room. In this space, the soft neutral shades of cream and gray accentuate the room's classic architectural detail, creating a timeless look. With its rich warm tones and vintage oak design, EverWood Designer in Camden complements the charm of this living space perfectly.
Whether it's a sitting room in the city or a cottage retreat, you can create a coastal feel with painted woodwork, cozy slipcovered upholstery and a touch of wicker. The functional beauty of luxury vinyl flooring offers you a "never worry" option. The soft vintage feel of EverWood Designer in Harrington is the perfect vinyl floor choice for a peaceful, relaxing space.
Today's industrial design trend brings character to a room. In this space, rustic textures, raw stone and wood come together to create a study with a vintage personality. EverWood Designer in Brighton Hill is the perfect luxury vinyl flooring choice for this office as it adds warmth, charm and an enduring design feature.
Even the most luxurious spaces in your home will look chic with vinyl plank flooring. The rich deep tones of EverWood Designer in Sonesta make it the perfect choice for this posh living room. The wide and long profile of the Designer series planks feature a rich low gloss that complement the high-end feel of this space.
Opposites attract! Loft living combines the charm of vintage with a contemporary vibe. In this space, the monochromatic colour story, modern profiles and rich texture are all key design features. To give this room an easy and relaxed feel, a luxury vinyl floor is ideal. The large scale and soft gray of EverWood Designer in High Point achieves this look.
A seaside retreat is best when it reflects the beauty of nature. The inspiration for this gorgeous living and dining space is the white sand and blue water of its view. The beauty, water resistance and warmth of EverWood Designer in Cable Bay is perfect for this room, as is its unique Microban® antimicrobial product protection.
Northcliffe, an EverWood Designer floor, was developed to bring old world charm to any space. The warmth of its twilight gray hues and rich vintage oak texture marry well with this 19th century inspired space.
EverWood Designer in Spanish Point is inspired by natural, vintage white oak. The rich texture and warm tone of this floor make it the ideal choice for this rustic yet modern kitchen.
---