TORLYS is Assure Certified™ for WPC Vinyl
TORLYS EverWood™ & EverTile™ collections reach highest standards.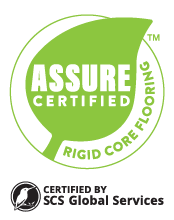 TORONTO, ON – December 2022 – TORLYS, a global flooring company specializing in beautiful, responsible flooring solutions, is proud to share that the entire TORLYS EverWood™ & TORLYS EverTile™ waterproof vinyl lines have been classified as ASSURE CERTIFIED™, the esteemed quality certification for Rigid Core Vinyl Flooring.
To achieve this accreditation, TORLYS EverWood™ & TORLYS EverTile™ collections were tested to ensure they adhere to the highest standards for indoor air quality, rigorous performance, and are free of heavy metals and ortho-phthalates. TORLYS RigidWood™ & RigidTile™ previously achieved this certification, so rest assured TORLYS vinyl flooring has met the highest standard.
With an aim of establishing uniform standards of quality for all rigid core luxury vinyl flooring products sold in North America, regardless of where they are manufactured, this new certification from the Resilient Floor Covering Institute (RFCI) and operated by SCS Global Services, requires products meet to demanding standards for safety, quality, and performance.
"We are very pleased to have reached this certification level, as it has always been our goal to offer consumers flooring that meets the highest standards, says Stephen Caldow, Product Innovation Director at TORLYS. "TORLYS is a proud and committed member of RFCI and as such, we are dedicated to innovation, quality and sustainability best practices for all our resilient products."
Luxury vinyl flooring is quickly gaining popularity across North America.  Given the large number of companies, products, and technologies in the category, it is easy for shoppers to become confused.  TORLYS pursued this certification to help consumers understand their options and provide them with peace of mind.
Browse all our ASSURE CERTIFIED™ vinyl flooring here.
ABOUT RESILIENT FLOOR COVERING INSTITUTE (RFCI)
RFCI is an industry trade association of leading resilient flooring manufacturers and suppliers of raw materials, additives, and sundry flooring products for the North American market. The Institute was established to support the interests of the total resilient floor covering industry – as well as the people and communities that use its products. Resilient Floor Covering Institute membership includes the largest, manufacturers in the resilient flooring industry.
About TORLYS
Headquartered in Toronto, Ontario, TORLYS is a global flooring company that specializes in providing beautiful, responsible flooring solutions. TORLYS has been creating and delivering innovative flooring solutions to homeowners, builders, and property managers, using the latest technologies for nearly 35 years and counting.
For further information, contact:
Leah Robinson, Manager, Digital Marketing & Communications
Email: Leah.Robinson@torlys.com Phone: 905-696-2399
---