TORLYS is still a Great Place to Work®!
Positive team feedback on workplace culture leads to second certification.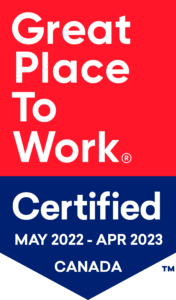 TORONTO, ON – May 2022 – TORLYS, a global flooring company specializing in beautiful, responsible flooring solutions is proud to announce that they have once again been certified as a Great Place to Work® after a thorough, independent analysis conducted by Great Place to Work Institute® Canada. This certification is based on direct feedback from employees, provided as part of an extensive and anonymous survey about their workplace experience.
"TORLYS first and foremost priority are our TORLYS TeamMates, unconventionally, even higher than customers.  By doing so, TORLYS TeamMates treat customers in kind making them their #1 priority" said Peter Barretto, TORLYS President & CEO. "Receiving this certification for a second year in row from our TORLYS TeamMates validates that we are consistently living up to our stated top priority."
Nancy Fonseca, Senior Vice President of Great Place to Work® Canada, says that a great workplace is about the level of trust that employees experience in their leaders, the level of pride they have in their jobs, and the extent to which they enjoy their colleagues. "Our data shows that great workplaces benefit from stronger financial performance, reduced turnover, and better customer satisfaction than their peers. What's more, work environments with trust at the foundation are ripe for innovation, agility, resilience, and efficiency," Fonseca said.
Are you interested in learning more about TORLYS work culture or considering joining the team? Visit our Careers Page to see current opportunities or visit TORLYS LinkedIn page.
About Great Place to Work®: 
Great Place to Work is the global authority on high-trust, high-performance workplace cultures. Through proprietary assessment tools, advisory services, and certification programs, Great Place to Work recognizes Canada's Best Workplaces in a series of national lists including those published by The Globe & Mail (Canada) and Fortune magazine (USA). Great Place to Work provides the benchmarks, framework, and expertise needed to create, sustain, and recognize outstanding workplace cultures.
About TORLYS:
Headquartered in Toronto, Ontario, TORLYS is a global flooring company that specializes in making smarter floors to bring more value to the world. TORLYS has been creating and delivering innovative flooring solutions to homeowners, builders, and property managers, using the latest technologies since 1988.
For further information, contact:
Leah Robinson, Digital Marketing & Promotions Manager
Email: Leah.Robinson@torlys.com Phone: 905-696-2399
---