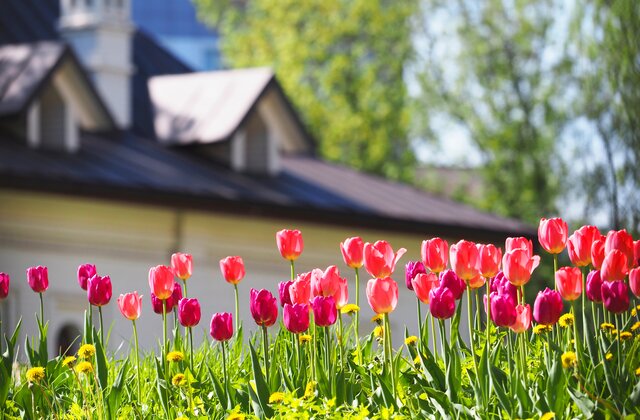 Four Spring Tips to Freshen Up Your Home
It's about time we hang up those heavy coats, retire those tires, and say hello to SPRING! Spring is the perfect season to refresh your space so you can come home after a long day feeling energized. TORLYS is excited to share 4 easy ways to rejuvenate your home for the spring.
Keep it Light and Bright
After a season of cold weather and cloudy days, it's time to bring the light back into your home. Pull back the curtains and paint those walls something bright! Choosing light colours is a great way to make your space feel larger and cleaner. Studies show, the colour of a room can also psychologically affect mood levels and energy levels.
Don't be afraid to incorporate some colour on your walls. Not sure which colour is right for you? Sherwin Williams has forecasted the colour of the year 2022 to be Evergreen Fog – SW 9130. This "cool and soothing gray-green" hue is calming and evokes nature. Try out similar colours (like Acacia Haze) using TORLYS Room Visualizer paired with our floors to discover which colour palette works best for you. Read more about the colour of the year on TORLYS Blog "Get Inspired by the Colour of the Year 2022."
Wish your Carpets Well and Say Goodbye
If you're looking at your carpets with some side-eye, its time to make a change. This spring, say hello to wider, longer, and cleaner grade planks. With endless design possibilities, you won't miss your old carpet after you XPerience TORLYS new EverestXP Hardwood.
These floors are durable, waterproof, wear resistant, and offer antimicrobial protection just to name a few features. Also, carpet is know to trap dust and common allergens, therefore, Hardwood will help improve the indoor air quality exponentially. Don't wait, breathe new life into your floors this spring with TORLYS EverestXP!
Invite the Outdoors in
Nothing says spring like fresh blooms and budding plants. Welcome the outside in with indoor plants and fresh flowers. Not only do plants clean indoor air by absorbing toxins and producing oxygen, but they are known to also boost your mood, productivity, concentration, and creativity. In fact, a simple touch of greenery can go a long way. Plants will help to enhance the look, feel, and smell of your home.
Clean O'Clock
Is spring really complete without some cleaning? Maintaining freshness in your home is essential to feeling good about your space and will help prevent the spread of germs. Additionally, it feels good to tackle those jobs you've put off during the winter.
Keep your TORLYS Floors clean by using TORLYS EcoCare Cleaning Kit. This all-in-one kit is biodegradable and phosphate-free, making it great for removing any build-up on your floors. Furthermore, to discover more cleaning tips and tricks, check out TORLYS Maintenance Brochure!
---
Whether you are saying goodbye to your old carpets or creating an indoor jungle in your family room, freshen up your space this spring. In short, the season is here and it wont last long, so take advantage of the motivation to make a change with the season. If that change means starting a home renovation, get started with the floors by browsing TORLYS flooring options. Once you've picked your favourite, reach out to your local TORLYS Dealer to get started today!
---