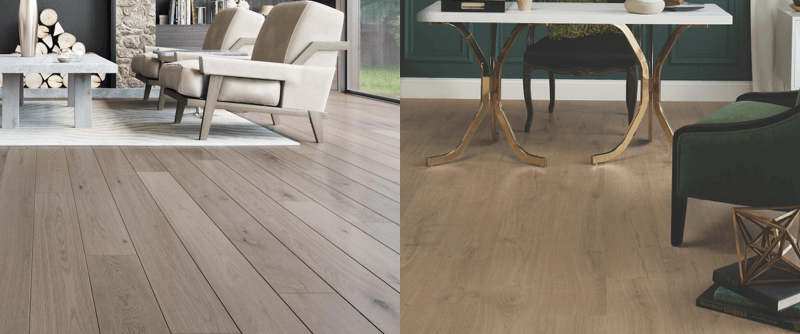 Hardwood vs Laminate Flooring: Which is Best for You?
Whether you are replacing existing flooring or on the hunt for the perfect floors in a new home, the choices can seem overwhelming. One of the most common questions revolves around the difference between hardwood or laminate flooring. Deciding which one is right for you can be a bit of a process, but looking at all the options available is worth it.
The Importance of Practicality
Practicality should be your priority when choosing your floors. Flooring should last in your home anywhere between 10-30+ years. Although looks are important, you need to make sure they'll last and maintain their good looks without time-consuming cleaning and treatments.
When thinking about practicality, consider where in your home your new floors are going. Is it a cold room that needs a warm surface? Or a room that tends to get a lot of moisture? Do you need floors that can withstand all the wear and tear of your family and pets or a soft floor for your walk-in closet?
Hardwood vs. Laminate
Considering looks, feel and practicality, there are two great flooring options: hardwood and laminate. Hardwood is made of real wood, making it re-sandable and warm, while laminate is a durable, affordable option with real wood looks.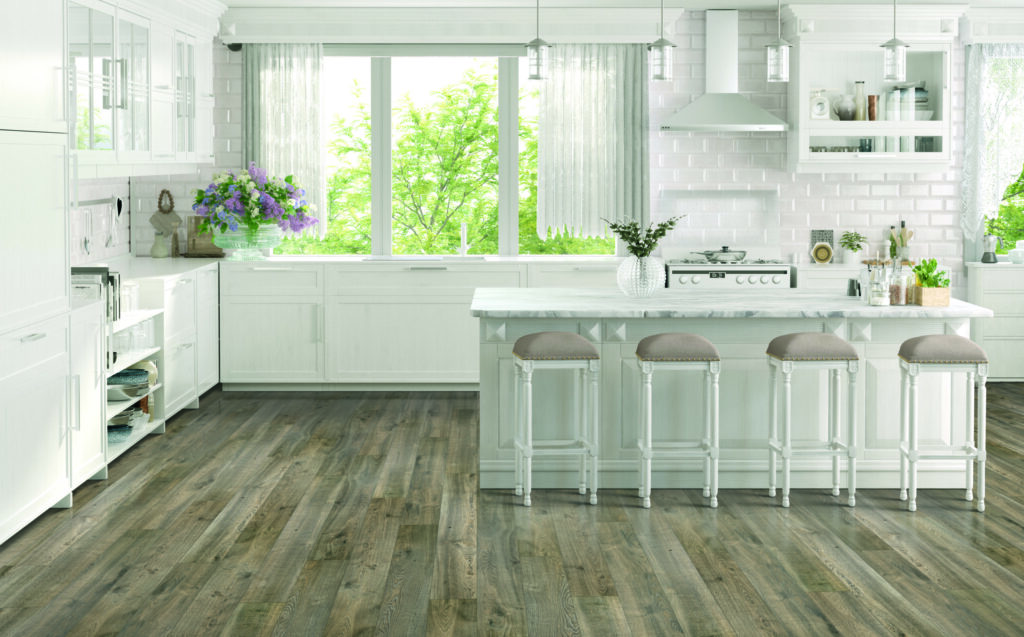 What is hardwood flooring?
There's no denying that hardwood flooring is beautiful. The natural colours and textures add warmth and value to any home. It will last a lifetime and you can re-sand TORLYS SuperSolid hardwood up to 4 times.
Plus, hardwood can handle whatever your family throws its way. TORLYS hardwood floors are durable and long-lasting, exactly what you're looking for in a high-quality hardwood floor.
Hardwood floors are a classic flooring luxury. They have natural colours and textures, adding warmth and beauty to your home. They last a lifetime, only needing to be swept or lightly vacuumed weekly, with the option to re-sand and refinish with a new stain. Because of all these benefits, having hardwood floors also increases your home's value since they're the most wanted flooring option.
Here are some quick pros and cons of hardwood floors:
Pros
Many style options
Increased home value
Easy maintenance day-to-day maintenance
Last a lifetime
Cons
Cost
Tend to need to be refinished eventually
Susceptible to scratches, dents, and water damage
TORLYS Hardwood Options
TORLYS SuperSolid 5, 6, and 7  are great, hardwearing floors made out of a solid, constructed hardwood structure that is re-sandable up to four times. A 100% hardwood construction with beautiful, natural textures provides warmth and value to your home. The high-quality hardwood is long-lasting, beautiful exactly what you're looking for.
TORLYS SuperSolid floors have an E-Lock core that helps prevent gapping, cupping, and splitting and have a smart-cut hardwood core and KLUMP top coat for long-lasting durability.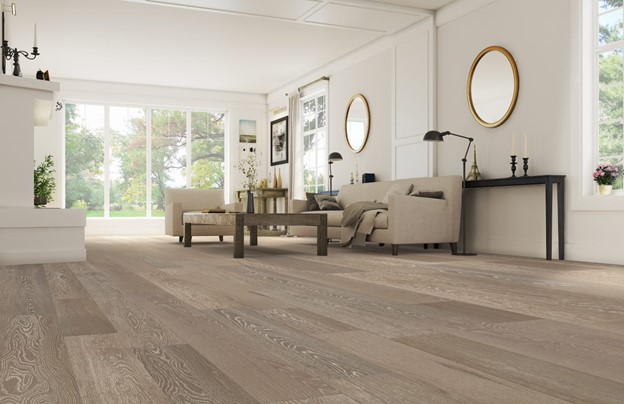 What is laminate flooring?
You may think of laminate as the wood-looking flooring that is cheaper than hardwood. It was notorious for developing waves and peaks over time and left you with an artificial look and feel. But that's the laminate flooring of days gone by.
Today, high-quality laminate floors outperform hardwood in a lot of areas. Most laminate flooring looks like wood but offers the durability of a non-wood product, making it a good flooring options for any room in your home, including wet areas.
The featured laminate flooring choices below are ideal for larger areas as they can now be installed transition free up to 50' x 50'. Plus, the micro bevel on 4-sides creates a look that replicates authentic hardwood, so you'll be the only one that knows they're not real.
Take a look at these pros and cons of laminate floors for quick insight:
Pros
Durable construction
Waterproof and water-resistant options available
Real wood or stone looks
Low-maintenance
Affordable
TORLYS laminate floors can be replaced plank by plank with the TORLYS BulldogTM Easy Plank Replacer
Cons
Can't be refinished, only replaced
Durable construction
Can feel fake
Don't add resale value
TORLYS Laminate Options
TORLYS Smart Laminate floors have an all-over realistic texture that resembles the natural beauty of real wood. Available in different colours and sizes, the floors are a perfect fit for residential and commercial spaces as they are incredibly durable with an AC5 rated wear layer.
---
Find your nearest TORLYS dealer and talk to them about whether hardwood or laminate is right for your home. They'll walk you through your options and recommend the right flooring based on your lifestyle and the overall look you want to create.
---