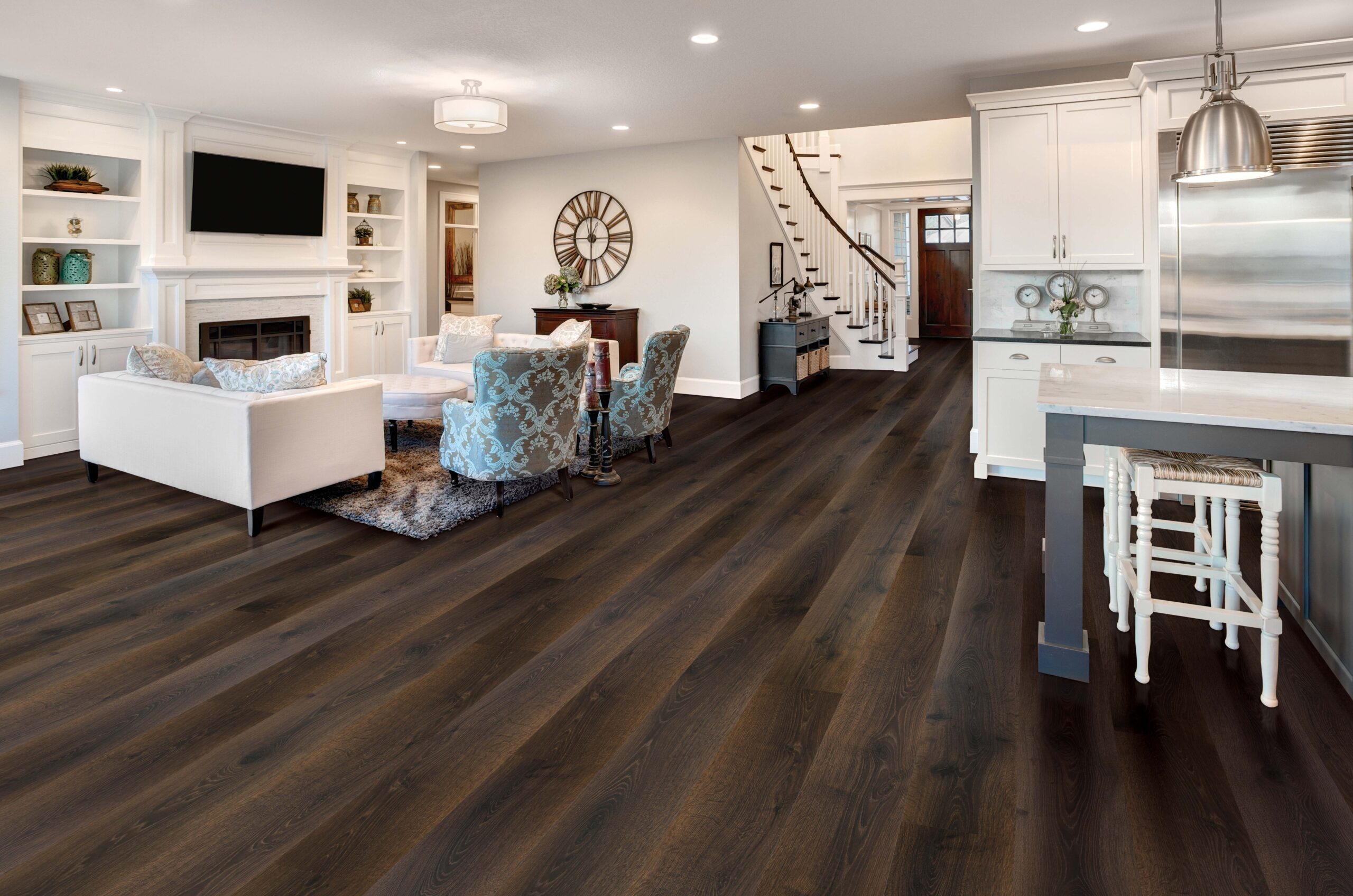 How to Style Dark Floors in Your Home
Dark floors create a dramatic, chic look throughout a home when they're styled correctly. When done wrong, dark floors can make a room feel claustrophobic, heavy, and sometimes even dated. Choosing the right furniture, paint, and accents to go along with dark floors is essential to achieve the right overall look and feel in your home.
Furniture
Furniture pieces should typically be a few shades lighter than dark floors. To create a harmonized look, choose furniture that has the same overall undertone. Lighter matching furniture will create a sense of openness while complementing the look of the dark floors. Pale wood can also add visual contrast to break up your space.
If you're not looking for any contrast and want a cohesive, elegant look throughout your house, choose furniture that matches the colour of your floors. For instance, if you decide on upholstered chairs, find some with wooden legs that match the colour of your floors and then freshen things up with a lighter fabric.
Choosing to mix and match your furniture is also an option. A dark dining room table with light chairs gives the best of both worlds, without distracting from the beauty of your dark floors. If you do mix and match, keep in mind that light furniture will stand out the most. Ensure that the lighter furniture pieces you choose are your favourite ones.
Walls
The standard design rule is dark floors, light walls. White or off-white paint will open up your room and give your dark floor a lift. You can maximize your white space by making your trims and mouldings thicker, allowing you to paint your walls a darker hue without losing any brightness.
Consider the furniture you own or plan on purchasing when deciding on your paint colour. If your furniture is already colourful, stick to neutral wall colours to avoid any clashing. For white furntire, paint your walls or an accent wall a bold colour, such as a bright green. Delicate touches from light hues like light blue or lavender can complement dark flooring and are a more subtle way to add some colour.
Accessories and Accents
A rug can add some colour and style to your space. It can act like a piece of art or centerpiece for your space. We recommend choosing the contrast between your rug and floors depending on how much you want your rug to pop from the rest of the room. If you need to brighten up a room, choose a light rug.
Leather, velvet and steel accents can complement a dark floor and give an area a soft, muddy or masculine feel. For window treatments, keep them light and translucent— allow as much natural light in a room with a dark floor to make it feel spacious. And in the kitchen, white cabinetry and countertops will make the room feel airy.
Brighten up your home with leafy plants and flowers. Put a vase of bright flowers on your kitchen counter or in the middle of your dining room table and your room will automatically gain some life.
Make sure to design to your space properly when you have dark floors to avoid a claustrophobic, dated look. With the right furniture, paint colours and accents, you can create a beautiful, modern space with dark floors.
TORLYS Dark Flooring Options
Are you interested in adding dark floors to your home? TORLYS has a wide selection of dark flooring for a bold look to achieve the best style for your home.
Use our Product Filter to see a complete list of TORLYS floors categorized as Dark. Plus, use our Room Visualizer tool to explore what floors filtered by colour look like in a variety of scenes!
Visit a local TORLYS dealer near you for more information about our collections.
---