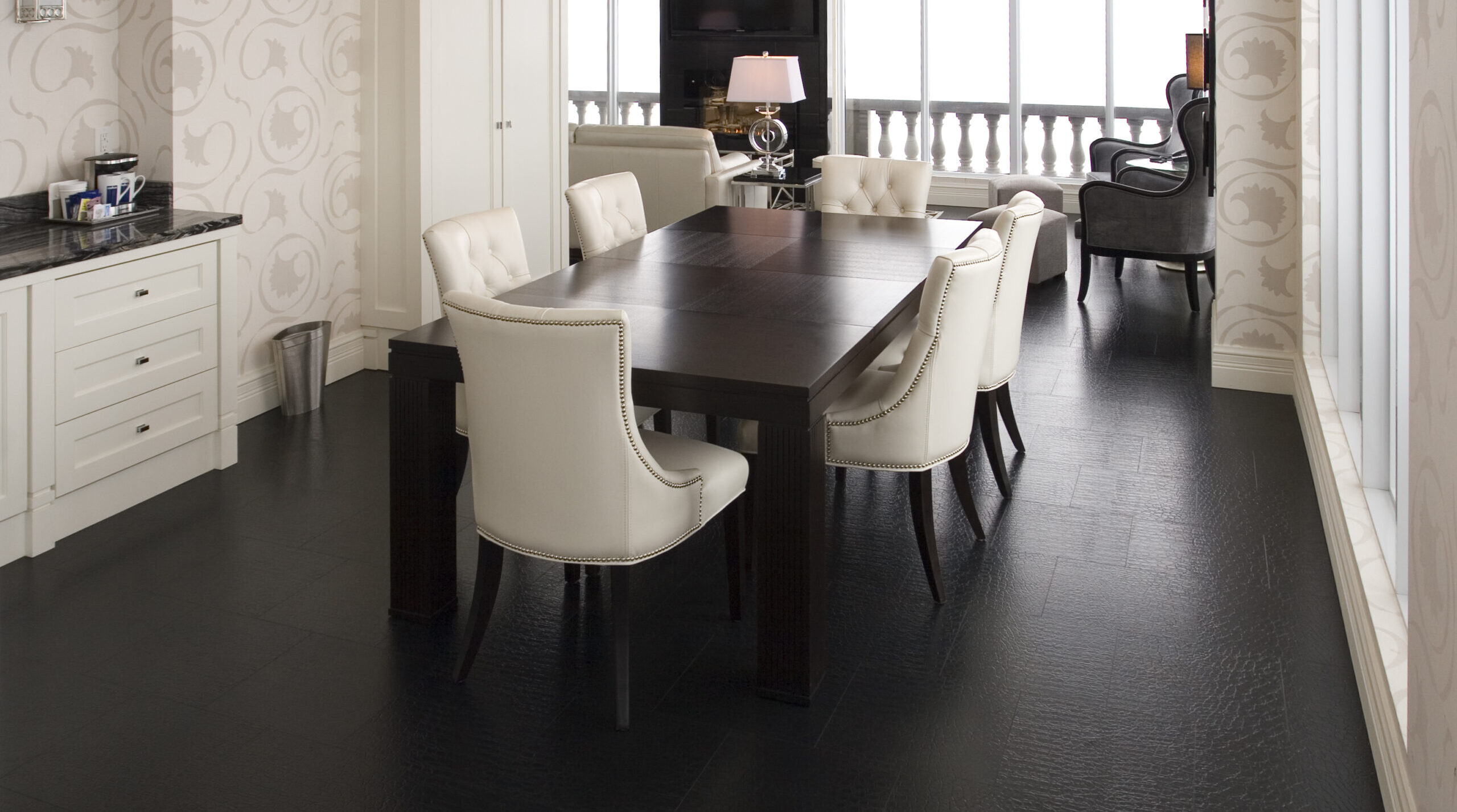 How to Use Leather Floors in Your Home
Leather floors make a luxurious, bold statement in any home. Their soft and warm surface provides comfort, while the elegant leather pattern acts as a centerpiece, creating a truly unique and sophisticated space. If you love the idea of leather floors but aren't quite sure how to style them in your home, TORLYS has the answers you need.
Not only are leather floors aesthetically pleasing, they also have a lot of practical features – they are durable, versatile, and quiet. TORLYS has gathered the benefits of leather floors, as well as the best rooms to feature these unique flooring options.
The Benefits of Leather Floors
Aesthetics
Leather floors are available in different colours and designs. They bring a rich feel to a home with their natural warmth and create an elegant sense of style. With styles available in multiple colours, homeowners can choose from bold or neutral hues to suit their home's existing décor. And, like a pair of leather boots, these leather floors will wear over time, creating an even more beautiful aesthetic.
Sound
Not only do leather floors provide comfort, but they can reduce the noise in different areas of your home. Leather provides exceptional sound insulation, absorbing the sound of heavy footsteps, making your home a more calm, quiet space.
Durability
While they are soft underfoot, leather floors are surprisingly durable. Apart from being easy to maintain, all leather floors require is an easy wipe, sweep, or quick vacuum to collect any dirt or dust. Even though leather floors can stain and fade, the natural ageing effects make them look better with time.
The Best Rooms for Leather Floors
For some, aged leather floors have more character and warmth. But if you would prefer to keep your floors looking new for as long as possible, ensure your leather floors are installed in dry areas without much sunlight.
Bedroom
Bedroom flooring trends vary from time to time, but nothing screams stylish like leather. Leather floors are sexy, soft, and warm to the touch, making them a wonderful choice for your bedroom floors. Just imagine hopping out of bed on a cold rainy morning and your feet landing on your leather floors. Bring the rich look of leather floors into your master bedroom for a grand look and a cozy feel.
Walk-In Closet
Carry your leather floors from your bedroom into your walk-in closet. Being a low-traffic area that adds resale value to a home, closets are perfect for your leather tiles. Plus, you won't have to worry about tracking in mud or dirt on the floors in this part of your home.
Home Office
Add warmth and elegance to your home office. If you have a love for luxury, you can make your home office elegant and more spectacular by adding leather flooring. Don't be afraid to use your personal sense of style to make your office space into a bold statement – you'll find yourself making more use out of it than you expected.
Living Room
Cozy up next to the fireplace while watching a movie with leather floors under your feet. Living rooms are a place for relaxation and make for a great entertainment space. The welcoming touch of leather will wow your guests while making them feel at home.
Dining Room
One of the most popular rooms for leather flooring is the Dining room. There is no better way to establish the Dining Room as a formal space than with leather flooring. These floors make the room feel grand without appearing overdone to your guests.
Plus, if any food or drink happens to fall on your floors, you can feel confident as TORLYS Leather floors come equipped with TORLYS CorkPlusTM Blue underlay with added Microban® antimicrobial product protection, inhibiting the growth of mold and mildew under your floors.
Leather Floor Maintenance Tips
Maintenance of your leather floors does not need to be complicated! Leather floors are durable, but there are small tricks to make them last a lifetime. Ensure you close your blinds to prevent unnecessary fading, pick up your furniture instead of dragging it, and clean up spills right away to keep your leather floors looking beautiful. Take care of your floors and they will give you years of comfort and beauty.
To maintain your TORLYS Leather floors, simply vacuum or sweep your floors once a week. Clean up any spills with a cloth. When a deeper clean is deemed necessary, use TORLYS EcoCare Cleaning Kit once a week or as needed.
TORLYS Smart Floors Leather
TORLYS Leather redefines what a contemporary and sophisticated floor can be. To create a uniquely beautiful flooring experience, explore TORLYS Smart Floors Leather collections. These floors will inspire you to create a bold, original, and adventurous space in your home. Available in tiles and planks, TORLYS Leather floors accentuate the distinguished styling and allure of leather to create a bold presence in any space!
If after reading this blog, you'd like to try leather floors, find a trusted TORLYS dealer near you through our Dealer Locator.
---