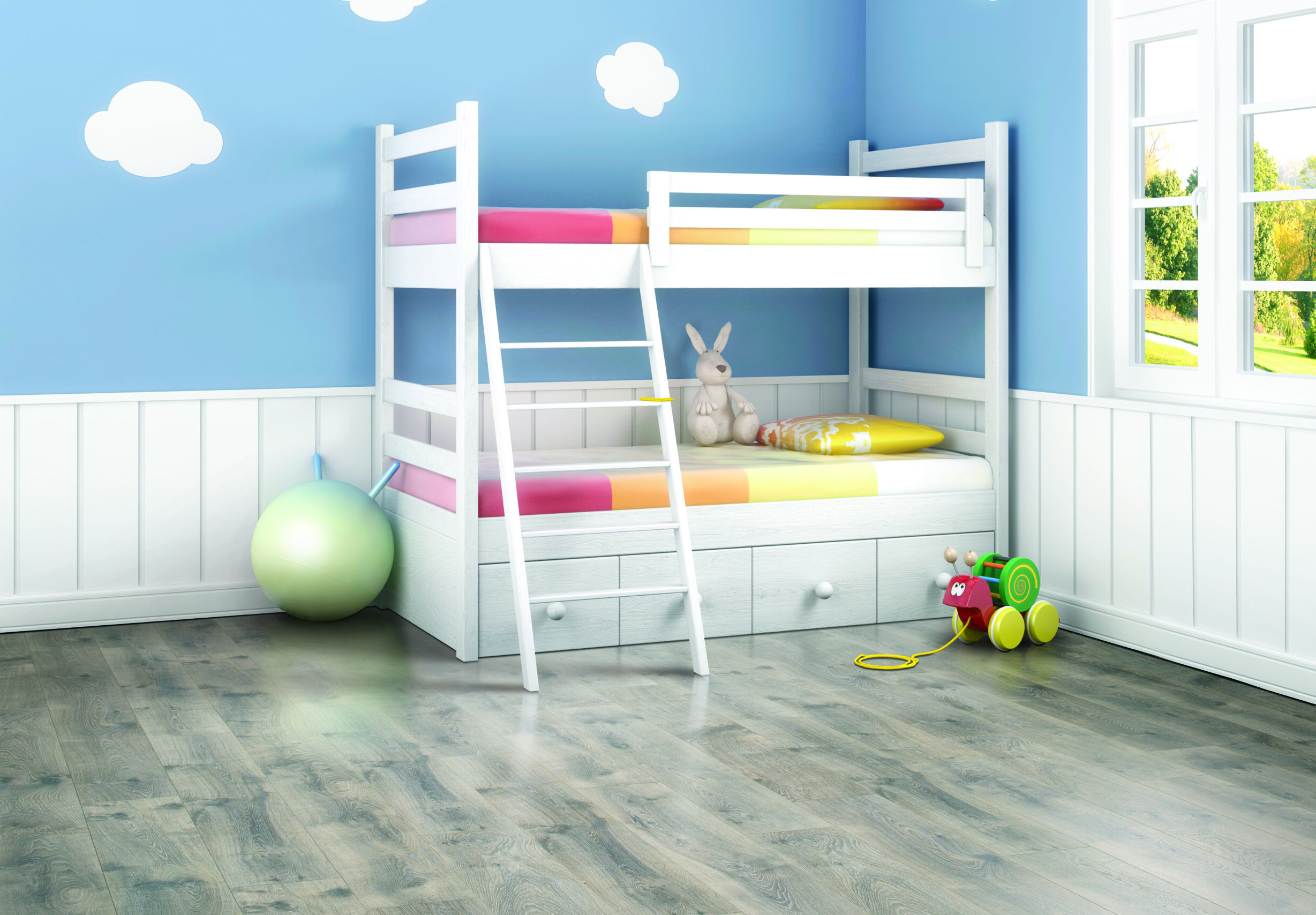 Kid-Friendly Flooring Options
Whether it's crawling babies spitting up their dinners, toys spread out across every room, or the high-foot traffic from daily games of tag, family homes see a lot of action. And guess what takes the biggest beating? Your floors.
Playrooms and kids' bedrooms are a space where kids should be able to be creative and have fun. So, we've gathered our tips on what to look for when selecting floors for a kid-friendly room.
Best Kid-Friendly Floor Factors
Choosing kid-friendly floors will prevent you from worrying about your children's safety and your floors getting ruined. To do this, we recommend looking for floors that meet these four criteria: durable, easy to maintain, safe, and beautiful.
1. Durability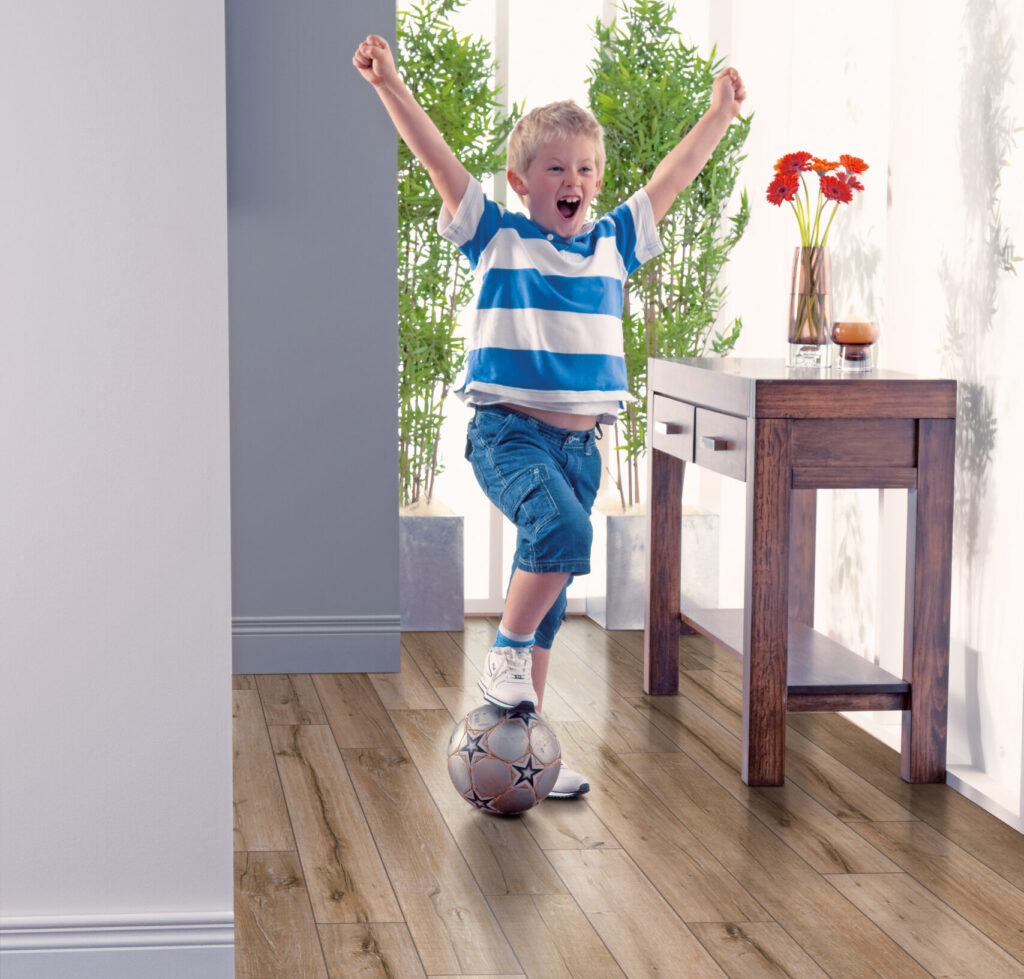 Playrooms and children's bedrooms take on a lot of wear and tear. Dribbled basketballs dropped glasses of milk, and busy sleepovers can take a toll on floors that aren't made durable. Look for a floor that can withstand high traffic to prevent replacing your floors sooner than expected.
2. Maintenance
As mentioned earlier, kids tend to drop stuff. No matter what it is. Luckily for you, there are low-maintenance flooring options that only require a quick wipe to clean things up. Easy to maintain floors make having kids a little easier and give you more time to relax. They also stop you from the constant fear of having to spend your entire night cleaning up a mess that took two minutes to make. Plus, TORLYS EcoCare Cleaning Kit makes it easy to maintain your floors, even when kids try to make it a challenge!
3. Safety
As we're all aware, children can be clumsy. Taking steps to avoid hard falls can turn painful incidents into little boo-boos, easing some of the constant worry that comes with parenthood. Some floors can provide a softer landing, cushioning drops and falls. They also lessen the sound of loud footsteps, allowing the sounds of playtime to continue without taking over your home.
4. Beauty
Your kids might like the most vibrant flooring option best but remember their style will change over time. Your children shouldn't grow out of their bedroom floors faster than they grow out of their clothes. Choose an option that is beautiful and will last for years to come. Add colour through décor, like bedspreads and knickknacks. Plus, you can always use vibrant paint colours to add some excitement to the room. Repainting is less tedious and a more cost-effective option than replacing your floors.
Best Flooring Options for Kids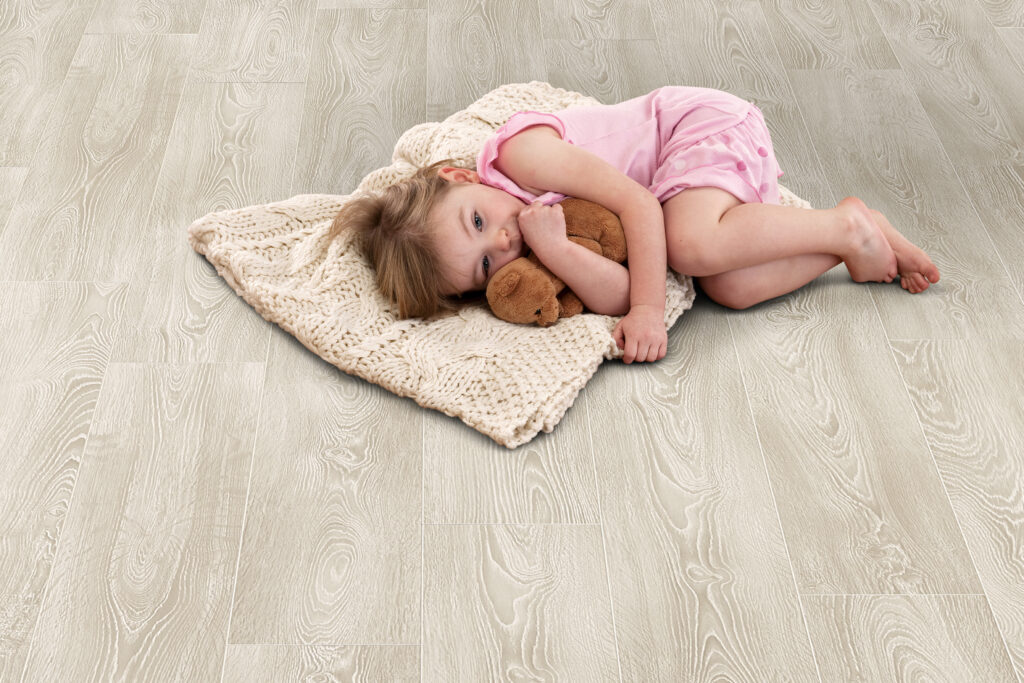 Now that you know the four main considerations to keep in mind when looking for kid-friendly floors, here are some great TORLYS flooring options for kid's rooms!
Cork
Cork floors are our top pick as a kid-friendly flooring option. TORLYS CorkWood collection combines the beauty of wood with the durability of laminate. Made of real cork, these floors are naturally soft and quiet, with a little extra give. These floors just need an easy sweep to prevent any scratches from built-up dirt and the occasional wipe due to spills. Cork is also a natural insulator, preventing noise for travelling and keeping your feet warm throughout cold winters. Cork floors check off all the necessary elements to consider, making them ideal for a kid's room!
Vinyl and Laminate
Vinyl and laminate are two different products with similar features. They're available in several different wood patterns, working with your home's existing décor. These floors are also durable and easy to maintain. TORLYS vinyl and laminate floors are scratch and dent resistant, standing up against everyday playtime. They also don't gap, cup or warp. All in all, they make for a great option for a kid's room!
Non-permanent Solutions
For a non-permanent flooring solution, use foam or rubber floor tiles to create a soft and easy-to-clean floor. They come in several colours and can be moved from room to. This way, you can install the beautiful floors you want without worry about your children's safety or about your floors getting ruined.
Choose TORLYS
At TORLYS, we have a variety of flooring options to choose from that are both practical and beautiful. Whether you choose Cork/CorkWood, Laminate, or Vinyl, there is a perfect TORLYS floor for your family. Explore these collections at our website and find a dealer near you.
---