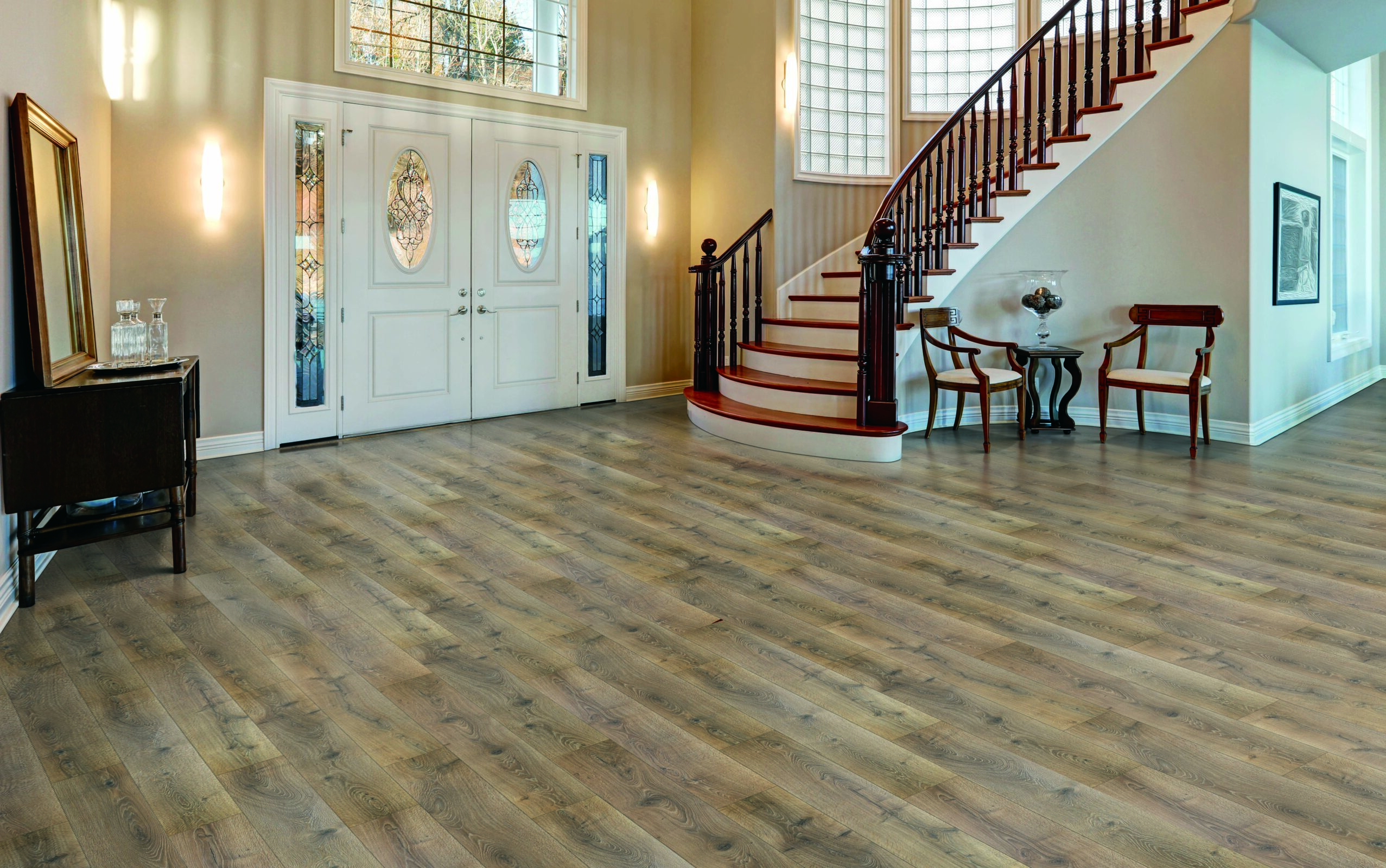 4 Essentials for Your Entryway
Although they're often overlooked, entryways are a key room. As the very first space guests see in your home, entryways set the tone of your personal style. Whether big or small, simple or extravagant, there are four things every great foyer needs: storage, décor, lighting, and durable flooring.
1. Durable flooring
There isn't much in a front foyer, but like every room, your front entrance needs flooring. Your entryway gets the most dirt and mud dragged in and is walked on with shoes all the time. If your floors aren't durable, they'll look worn and set a poor tone for the rest of your home. The solution? Durable floors.
Choose floors that are dent, cup, and gap resistant, preferably also waterproof or water resistant. Floors that are easy to maintain are easier to keep looking new and take up less of your time when it comes to cleaning. Add a rug or mat in your front entryway to catch dirt and further protect your floors from the in-and-out traffic. Just make sure to use a non-slip backing underneath to prevents any injuries.
At TORLYS, you can explore a luxury vinyl option like our EverWood and EverTile collections. These collections offer real wood or tile looks but are more durable, maintaining their beauty for years to come. And when it comes time to clean your floors, use TORLYS EcoCare Cleaner, a specially formulated floor cleaner solution for all TORLYS floors!
2. Storage
When you walk through your front door, how does the entrance make you feel? Is it warm, welcoming and functional? Or do you have to wade through mountains of shoes, clutter, and this week's recycling just to find a spot to remove your coat?
Storage is an essential component to a foyer because of the traffic it sees from the people with whom you live and your guests. Although every entryway needs it, not every entryway has enough storage space.
For those living in the house, especially if there are kids, tucked away storage is essential. A coat closet or a shoe cabinet can help hide clutter, which leaves more room for decorative pieces. And if you're lucky, your coat closet can even double as a decorative piece.
A place to put down your keys, mail, or whatever you're carrying is helpful, as is a place to sit while putting on your shoes. Depending on the size of your hallway and how much closet space you have, select furniture that suits your needs the best.
And for guests, try to have easily accessible places for them to hang their coats when they arrive. Make sure there is a place for them to put their shoes where a big pile up won't block the door. Depending on your living situation, keep in mind how many people may be visiting you at once. Sometimes all you need is a couple of hooks to keep things easy and clutter free.
3. Décor
Your furniture might make the biggest impact, but here are a few smaller ways of upping your entryway's décor.
Paint Colour
Choose a colour that complements the style of your home and welcomes guests. Colours with warm undertones such as yellow, orange or red are the route to go for this. If your foyer is small and already painted in a cool colour, use decorative pieces and furniture to add some warmth to your foyer.
Mirrors
One of the smaller pieces that can create a stylish entryway is a mirror. It's a functional addition as almost everyone looks at themselves before leaving their home, especially before work. Plus, mirrors come in various shapes and sizes and are available with simple or extravagant frames that can act as a piece of art. They also help to make your space look bigger.
Seasonal Decorations
Use your entryway to display any holiday or seasonal decorations you own to make your home feel festive and welcoming. Try adding some decorative flowers, statues or colours to add a holiday touch without adding too much clutter.
4. Lighting
A lack of light in any room can make it dreary and unpleasant. Entryways not only look better when they're well-lit, but they make it easier for you to get ready to head out the door. Depending on your style, you can add some drama with a beautiful chandelier.
Don't overlook your entryway when designing your home! As the first space guests see, you want to make a great impression. Use TORLYS Room Visualizer to explore your flooring options and get inspired! And when you're ready, contact a TORLYS Dealer near you to find the perfect floors for your space.
---