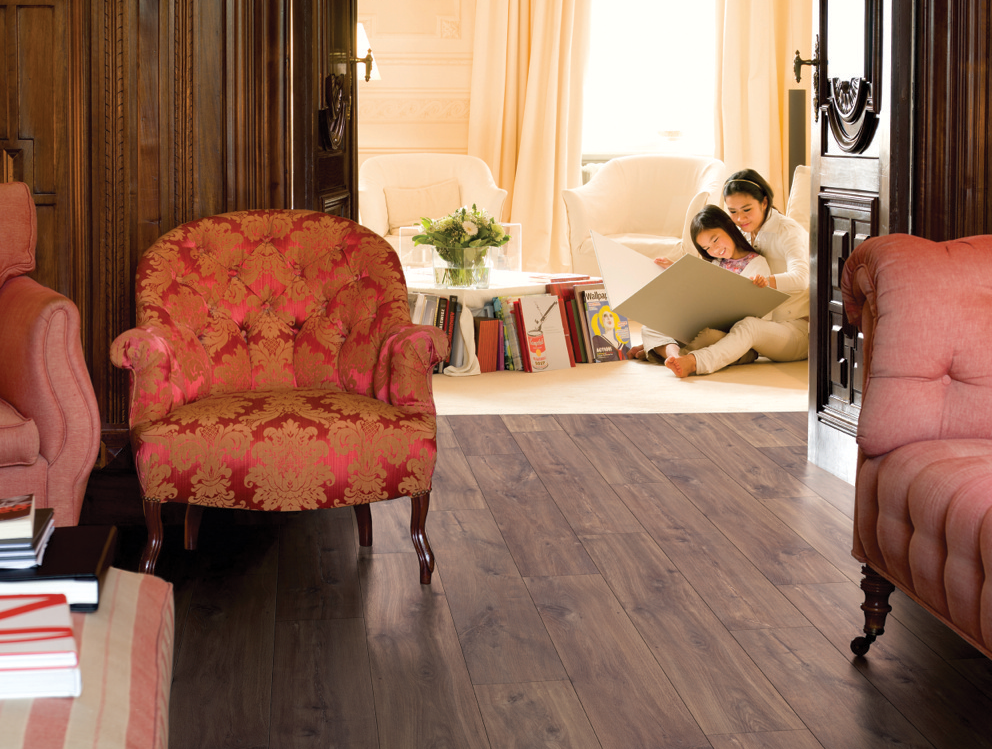 Creating Space with Flooring
If you live in a condo or an older home with the original floor plan, chances are your home is space-challenged. Building permits, retaining walls and your budget can stop you from tearing walls down to create a bigger room.
This year, we are spending more time within the four walls of our home and the space can feel even more confining. Luckily, there are other ways to make a room look and feel bigger. Carefully chosen and installed floors and well-placed furniture will help you create a bigger space without the fuss of a large renovation.
Here are a few creative tricks that will make your small room feel bigger without having to change your square footage.
How to Use Flooring to Create a Larger Space:
Large planks vs small strips
Long, wide planks make a space less busy and airier the same way a plain rug is a better choice versus a rug with a small print.
Install parallel or diagonal flooring
Flooring that is either parallel with the longest wall in your home or installed diagonally takes away from a room's lack of size and achieves an elongated feel.
Unify your floors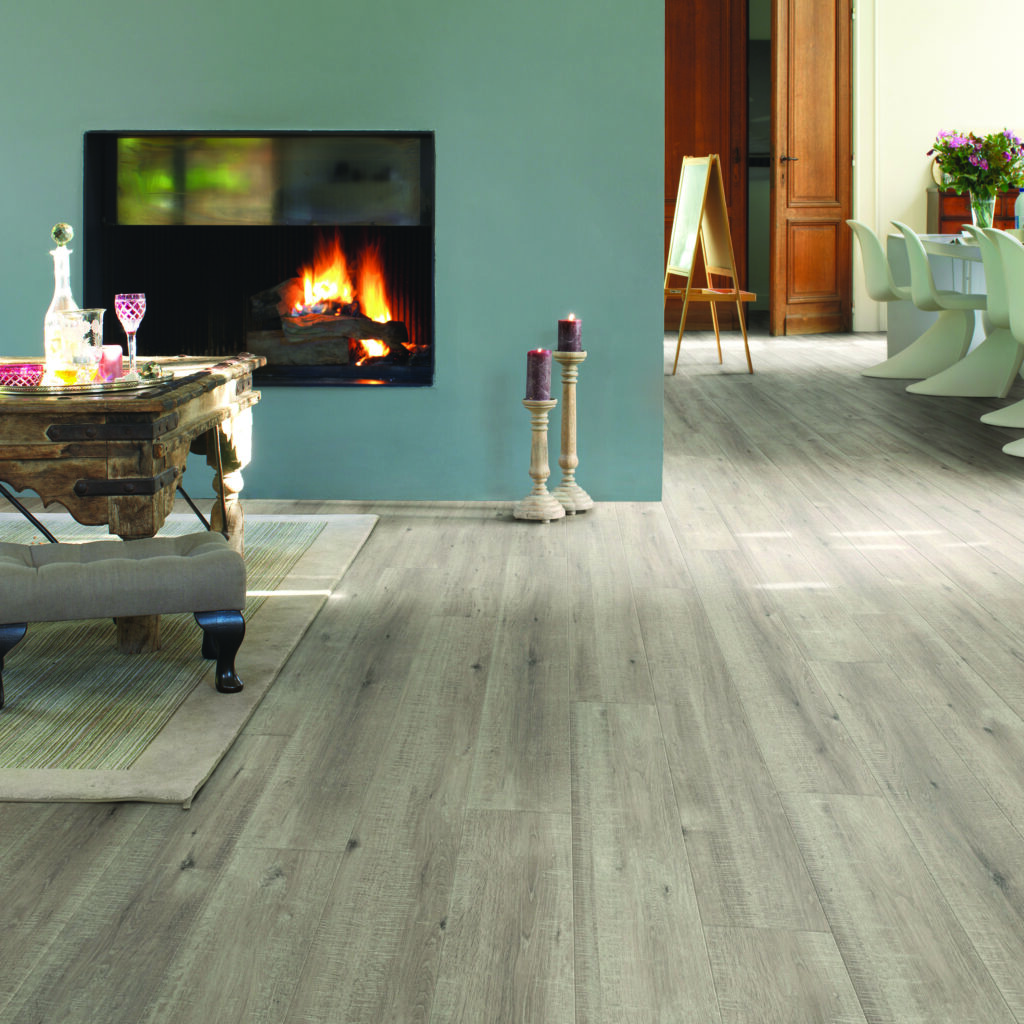 By having the same flooring throughout your home you're creating a sense of one large space instead of multiple small spaces. This creates an open concept feel without having to tear down any walls. Bathrooms are an exception though, as they have higher levels of wetness and humidity, needing flooring that accommodates these factors.
Dark and light floors work
Light paint colours are typically recommended to make rooms feel bigger but when it comes to flooring, dark and light floors can both be used to make a space look bigger if you use the right paint and furniture. What's more important is carrying the same kind of flooring throughout your space.
Other Tips for Making Your Space Look Bigger:
Use light and cool paint colours
Light and cool colours make a room feel airy and more open. Using the same colour around your home but varying in shades creates a cohesive space but also adds some colour. For example, paint your walls or custom shelving just a few shades dark than your mouldings to create some contrast while maintaining a cohesive look.
De-clutter and keep things off the floor
The more you can see your floor the bigger your space looks. Either throw away what you don't need, store it in the garage, or install built-in shelving, but keep as much free space as possible.
You can also show your floors more by choosing furniture with thin legs and glass surfaces.
Avoid heavy, solid furniture
Going with the point above, choose light furniture that doesn't sit on the floor and has thin features.
Focus on height
Use full-length paintings, curtains and blinds (even if your windows are small), and consider using wallpaper or a different colour of paint on your ceiling to draw everyone's eyes up. If you want to keep things simple, paint your ceiling the same colour as your wall. This makes it hard to see the parameters of your space, making it bigger.
Hang mirrors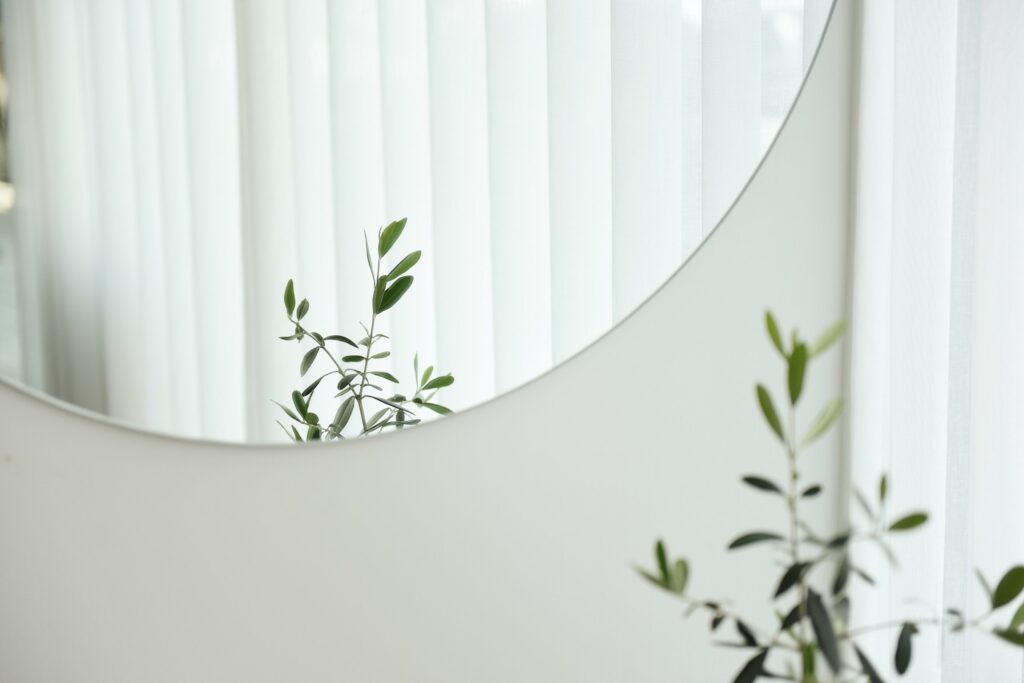 Although mirrors are usually hung to show a reflection, they can be used as a piece of art and to enlarge a space. With endless frame options, you can choose a mirror that is modern or classic to enhance your room's décor. Plus, the reflection of your space (especially if placed in front of a window) can make a room appear bigger than it actually is.
Put down a striped carpet
If your flooring isn't parallel with your longest room dimension, put down a long carpet with stripes in the same direction as your longest wall to bring attention to the longest surface of your space.
Pull furniture away from the walls
When there is room between your walls and your furniture it looks like you have room to spare.
Buy multi-functional furniture
Ottomans with storage space can be used as a coffee table are great for hiding blankets, movies, and board games. Plus, multi-functional furniture means you need less furniture, giving you more floor space.
Natural light
Skylights, solar tubes, and large windows are a great source of natural light and create an airy, open feel.
As we spend more time in our homes this year, we are more aware of the space we live in. Using these tips, we can make our space feel less claustrophobic. And if you're having trouble finding the right floors for your space, visit a TORLYS Dealer. Your local dealer will be happy to help you find the perfect TORLYS floor for your space and lifestyle.
---