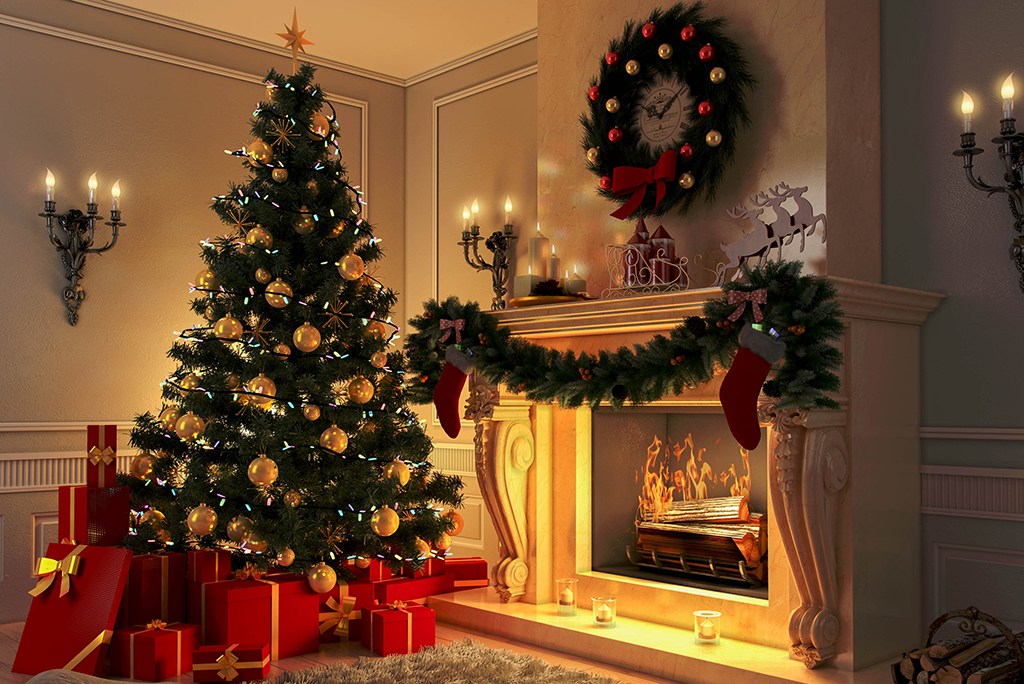 9 Simple Holiday Decorating Ideas
We don't know about you but for us, it feels like a holiday is always around the corner. Decorations can be stressful and put a strain on all your other holiday responsibilities, but with a few versatile pieces and some colour, we guarantee you'll have a beautiful home ready for the holidays.
Here are some of our go-to holiday tricks that can be used to take some of the stress out of decorating.
1. Start with a Good, Clean Foundation
It doesn't do any good to add holiday decorations into the mix if we haven't gotten control of the clutter in our house. Start by putting things away that don't need to be out, and make sure everything is looking spick-and-span. And don't ignore your floors! Use TORLYS EcoCare Cleaning Kit to make sure you have a good, clean foundation to your home decorating with a shining floor.
2. Holiday Curb Appeal
The holidays call for family and friends coming over for dinner and constant visits. Decorating your home from the outside gives people a festive impression before they even go inside. We recommend decorating your front entryway with seasonal plants or flowers, a front door ornament, and a colourful blanket.
Seasonal flowers typically only last for a few months and need to be repurchased every year, but they add a beautiful first impression and can be purchased for $10 to $30. Look for big pots or hanging baskets that represent the holiday season. If you'd like, you can continue this look indoors as well.
Front door ornaments, for example, a wreath, only need to be bought once and can be reused year after year. They decorate your front entrance without taking up any space on your entryway, making them super convenient if your porch is either small or nonexistent. If wreaths seem like too much of a hassle, try tieing a colourful ribbon around your doorknob.
If you do have a front porch with a bench or chairs, add a holiday-themed blanket. It doesn't have to be covered in pumpkins or elves, but choose one that fits the seasonal aesthetic. This will also make your home more inviting and keep you warm when you're scoping out your neighbour's holiday decorations.
3. Festive Tableware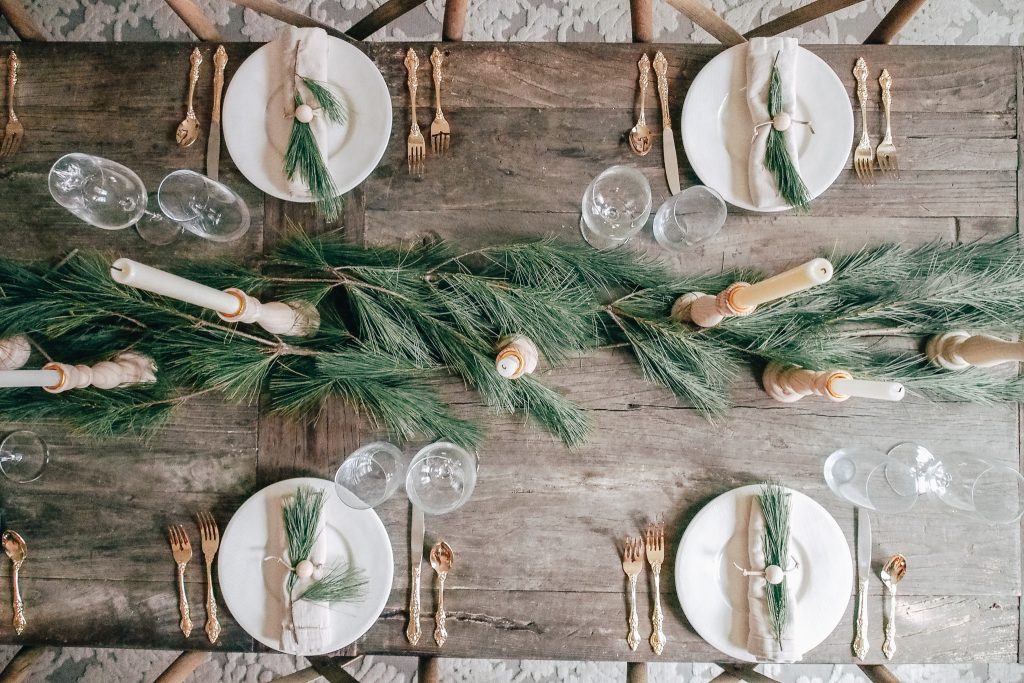 Festive tableware can vary in prices. There are options for people who love to go shopping and overflow their dining table with holiday decorations and there are options for people who like to keep things more low-key but with subtle touches.
Centrepieces are a beautiful way to set the mood for your dining room. (They're not called centrepieces for no reason!) Look for decorations that would complement your dishes and the rest of your home's style. You can even purchase small pieces to put on everybody's plate.
If you're looking to keep things more subtle, or on the more affordable side, try decorating your table with some seasonal fruit or vegetables in a big bowl. Colourful paper or linen napkins can also add a nice flair without making you go overboard.
4. Use Clear Vases
Clear vases are a perfectly simple yet glamorous way to showcase your holiday decorations. Put some leftover holiday ornaments that didn't fit on the tree in a clear vase (bowls work, too!), then put the vase on your kitchen island. Or on the counter in your main bathroom. Or on the windowsill in the living room.
Other vase-filler ideas include seasonal fruit, candles, and some outdoor finds like pinecones.
5. Decorate with Smell
Yes, we just mentioned how candles can be used to create a great centrepiece inside of a clear vase. But candles also give you the opportunity to make your home smell like the holidays.
After all, the sense of smell is closely linked with memory, and there is a certain smell linked to every season. Take advantage of this. If you don't like candles, buy an air fresher in a holiday scent. Your guests will definitely notice, and you'll always be in a happy, holiday mood.
Tip: Spruce up an old or plain candle by tieing a bow around it for added detail.
6. Display Your Candied Goods
For most, the holidays are about food. Family gatherings, friendly get-togethers and late night movie nights all revolve around dinner or snacks. And dessert. So why not decorate with your favourite holiday treats? Leave our some cookies decorate for the occasion, or have some candy hanging out in a bowl. All these touches make people feel welcome while adding a festive touch. And to really win at holiday decorating, put your holiday treats in a clear bowl or vase.
7. Pillow Patterns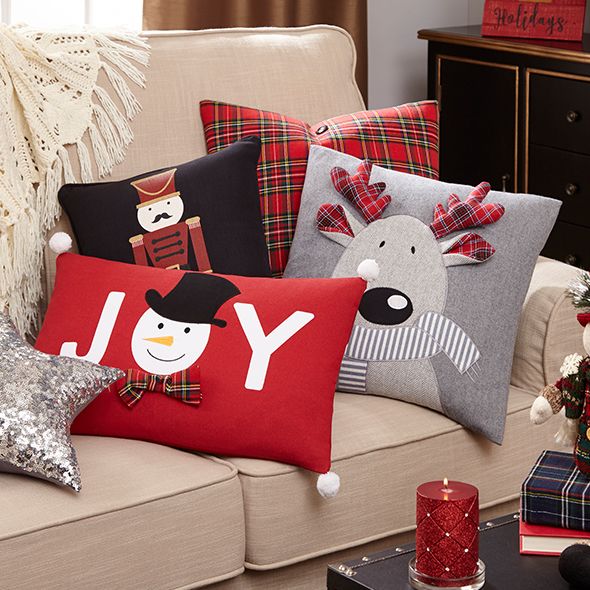 Buy some season pillows for $10 each and put them on your couches, windowsills, dining room chairs, and even outside. Pillows come in a large variety of patterns and colours and add coziness to a space.
8. Colourful Towels
Add pops of seasonal colour to your home by switching our your tea towels for ones with a festive pattern. This will add a subtle touch to your kitchen and will give you something to look forward to every holiday season. Bring this idea into the bathroom by putting our colourful hand towels for guests to have a consistent, decorative flow throughout your home.
9. Make Use of Your Stairs
Staircases are a great place to add holiday details. Everywhere from the landing to the railings, use decorate ribbons, lights, greenery and plants to continue the festivities upstairs. Even if your upper floor won't be used by guests, staircases are an elegant focal point and can be seen by guests, typically right when they enter your home. Besides, there's always that one guest that help themselves upstairs to use the facilities or snoop around.
This holiday season has brought unprecedented challenges, but with these simple tricks, the holiday spirit can lift us all up! Don't let the magic of this time of year pass you by – embrace it whatever way you can. From everyone at TORLYS, wishing you and yours the very best!
---