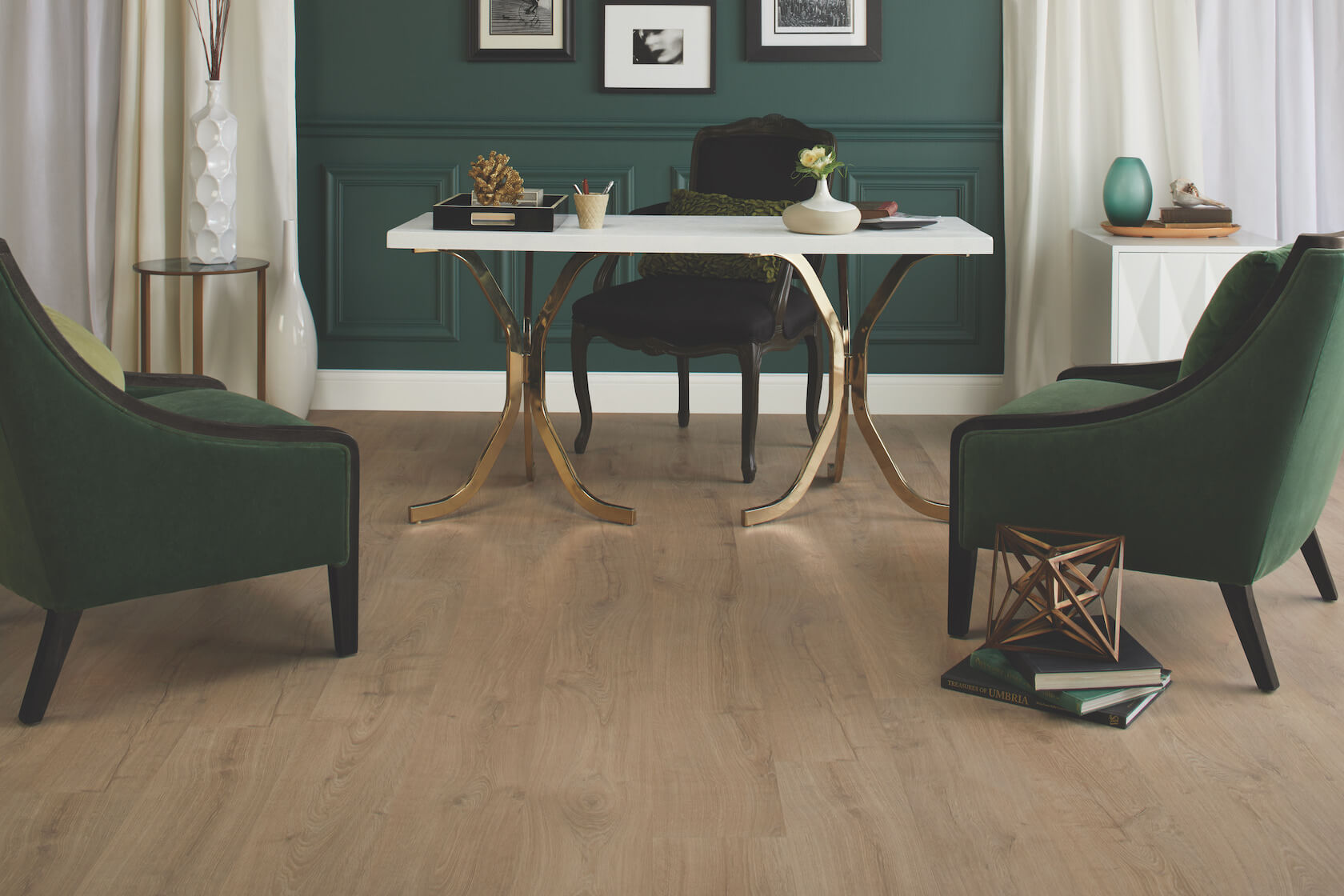 How to Install Laminate Flooring in Your Home
Are you getting ready to install new laminate floors in your home? Is it feeling a bit overwhelming trying to figure out the best way to tackle the job?
Installing your own laminate floors can seem like a daunting project. If you lack the 'handy' gene and the idea of manual labor has you breaking out in hives, you'll likely want to leave this project to a professional. However, if you've successfully completed other home renovations and are up for a new challenge, laminate flooring installation is a great skill to add to your repertoire.
Start by Selecting the Right Materials
TORLYS laminate flooring is not only stunning but exceptionally strong. Because it's a hardwearing surface, you'll get to spend less time worrying about if it can handle what life throws at it, and more time admiring your handy-work. You can choose from 6 designer collections that were created for every style and lifestyle. Plus, with our Uniclic® laminate floors, you'll be able to walk on your floors as soon as you're done.

If you're looking for a transition free option, TORLYS has a variety of products that will cover a space that is 50' x 50' without having to worry about transitions. Enjoy a seamless appearance from room to room with no "speed bumps" in the doorways.
Over 90% of residential applications can be installed transition-free, so your home is likely to be clear of speed bumps. Be sure to check out the detailed instructions included with your TORLYS laminate floors when completing a transition-free installation.
Install Laminate Flooring With These Tips
Measure Twice, Shop Once
Nothing will drag out the time it takes you to finish laying laminate flooring like multiple trips to the store to buy more planks. Start by calculating the total area of the room or rooms and add 5% for waste.
Prep the Planks
Think of it as acclimating your new floors. 24 hours prior to installation, place the closed packages in the middle of the room.
Ready the Room
Out with the old, in with the new! Remove existing carpet, baseboards, quarter-rounds and thresholds. This is also a great time to ensure all doors can still open and close after installing the floor (minimum 3/8" – 1cm clearance). Don't forget to include your underlay.
Sub-Floors Subpar?
Now that you've removed the existing floor covering, it's a great time to give your sub-floor a little TLC. Repair any defects in the sub-floor and make sure it's clean, firm, flat, dry (less than 3% moisture on concrete, 10% or less on plywood) and smooth.
If there are any loose parts or you have a creaking floor, you should secure the sub-floor with nails or screws and, if necessary, apply a levelling compound.
Decide On a Direction
When you are installing new laminate floors in a room, you should install them parallel to window light. This will make the room look larger and make the floors look natural in your home.
If you are installing the same laminate flooring throughout your entire home, start at your front door. Your floors should run perpendicular to your front door, and in the same direction through your home. This will make your entryway look longer, and create a cohesive look in your home.
If you switch directions of flooring installation in each room, it will make your home look broken up and unintentional.
Don't Forget the Underlay
Depending on the type of subfloor you're working with, you'll likely need underlay. TORLYS offers a variety of underlayment options that will provide a sound deadening barrier for your floor and will also help with insulation. If you live in a condominium or apartment, check with your condo board or management company as they may have specification requirements in regards to sound ratings for your underlayment choice.
---
Find your nearest TORLYS dealer and talk to them about your laminate project. They'll be able to help you pick the right flooring and help you decide if this is the kind of project you can DIY, or if you require professional installation.
Tackling a laminate flooring project that involves stairs? Check back for an upcoming article on installing laminate on stairs.
---