TORLYS EverWood Twist™ Featured on Marilyn Denis Show!
Innovative herringbone floors praised for its easy installation and attractive design.
TORONTO, ON – February 2020 – TORLYS, a global flooring company specializing in beautiful, responsible flooring solutions, announced today its unique herringbone flooring EverWood™ Twist appeared on CTV's THE MARILYN DENIS SHOW, a lifestyle and entertainment talk show.
The latest addition in TORLYS' ever-popular WPC vinyl program, this revolutionary product was showcased on air February 3rd by design expert Andrew Pike, who spoke on the resurgence in popularity of herringbone flooring and demonstrated EverWood™ Twist's ease of use while showcasing its gorgeous look and texture. Set to launch later this year, EverWood™ Twist is already sparking interest for both its unique combination of benefits and design appeal.
"Unlike most herringbone flooring that feels like a complicated puzzle to install, EverWood™ Twist requires only a single panel (no lefts and rights) with no glue needed and looks great with realistic wood visuals," said Cam Bowen, TORLYS VP of Sales– Builder & Commercial, North America. "We were thrilled to be asked to preview this product on-air and we can't wait to officially launch it to the public later this year."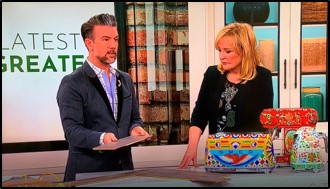 Joining EverWood™ Twist in the latest in advanced luxury vinyl flooring from TORLYS Innovation Lab is EverTile™ Twist; featuring the appearance of ceramic and stone coupled with warmth and durability. See the EverWood™ Twist feature here or watch the full episode on the Marilyn Denis Show website (we appear at the 18:43 mark).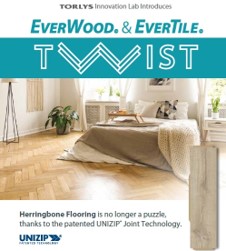 ABOUT THE MARILYN DENIS SHOW
Hosted by Marilyn Denis and taped before a studio audience, THE MARILYN DENIS SHOW is a daily lifestyle and entertainment talk show featuring Canadian and international celebrities and experts.
ABOUT TORLYS
Headquartered in Toronto, Ontario, TORLYS is a global flooring company that specializes in providing beautiful, responsible flooring solutions. TORLYS has been creating and delivering innovative flooring solutions to homeowners, builders and property managers, using the latest technologies for 32 years and counting.
For further information, contact:
Leah Robinson, Digital Marketing Specialist
Email: Leah.Robinson@torlys.com Phone: 905-696-2399
---