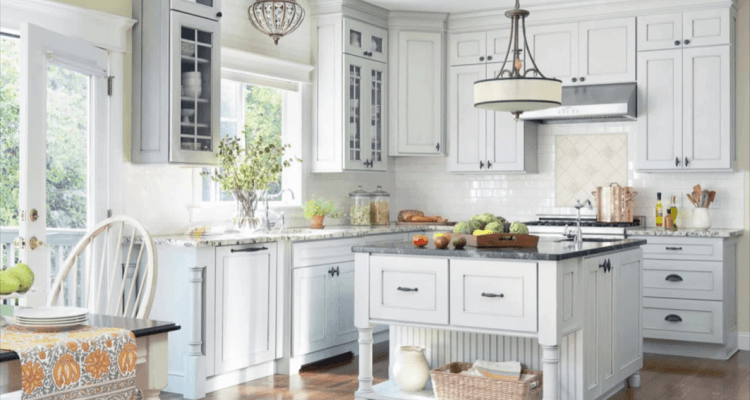 TORLYS Design Notes: Kitchen Cabinets
If you are considering a kitchen renovation, keep in mind that the design focus in the room will be the kitchen cabinets and the single largest surface to cover is the floor. If these two elements are not in harmony, your kitchen design could be in trouble. Here are a few things to consider when selecting your kitchen design and finishes:
Decide on the overall design story before you start shopping for materials. Not all finishes work in every interior design scheme. Gather lots of your favourite kitchen images off of the internet and from magazines, and when you're ready, narrow them down to your favourite overall theme. Don't get caught selecting a material or colour just yet: keep your search high-level.
Select the design that suits your lifestyle. No matter how beautiful an all-white modern kitchen looks if your schedule is crazy and your cooking style is flamboyant, stay away from a kitchen that demands perfection and zero clutter. On the other hand, if you hate clutter and all materials must match, you would be wise to avoid a casual country or industrial kitchen design. The "stuff" needed to create the feel of relaxation could drive you crazy. Select a kitchen design that makes your life easy, yet still delivers the design features you love.
Once you have inspirational images and decided on a design story, start gathering material options and samples. Start with those elements that have the least colour or finish options. There are hundreds of paint and fabric colours to choose from, but wood finishes may be limited to just 8 or 10. Select the kitchen cabinets and flooring first. Make sure the colour and the characteristics of the materials compliment each other and work with your overall design scheme. Here are a few examples that may help:
Glam It Up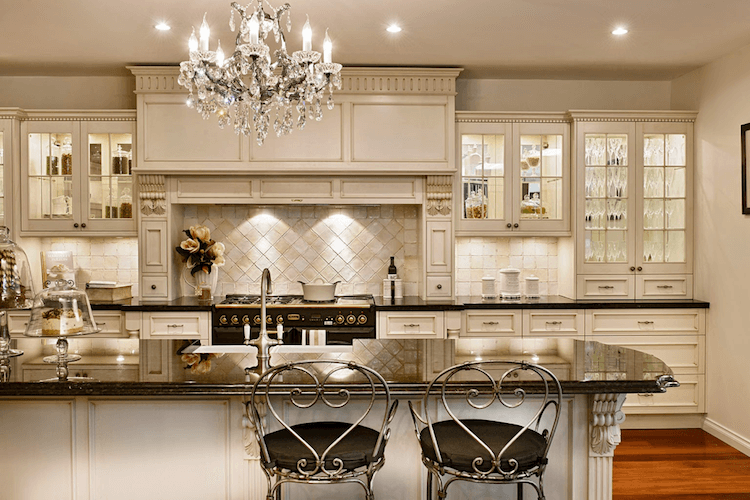 The drama of high contrast will also create a feeling of glamour in a traditional kitchen. If the kitchen cabinets are a rich creamy finish and ornately detailed with lots of sparkling glass, try a contrasting hardwood floor and stone countertop in deep charcoal or chocolate. Here are suggestions from the TORLYS hardwood collections:
[swatch title="TORLYS Summit Elite Hardwood Stratford Walnut" columns="6″]
[/swatch] [swatch title="TORLYS Super Solid 7 Hardwood Lightning Ridge Oak" columns="6″]
[/swatch]
Natural Warmth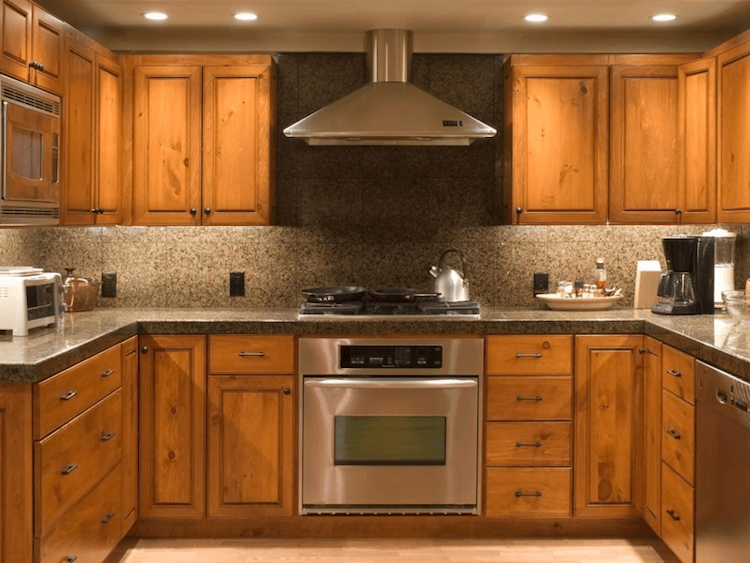 If you're a purist about wood and love to see natural grain and imperfections, then look for kitchen cabinets in pine, hickory, red oak or rustic maple. These species have lots of character and lend themselves to a casual or country kitchen. Your decorating challenge will be calming down the red and orange overtones that come with the species. The right selection of flooring can help. Unless you want a log cabin effect, avoid matching the flooring to the cabinets. Going with a lighter shade of wood may wash out the overall décor. Try a deeper wood stain in the brown family it will highlight the cabinets and tone down the red. Here are a number TORLYS options in EverWood vinyl, hardwood , laminate and cork:
[swatch title="TORLYS Artisan Elite Hardwood Orchard Cliffs Walnut" columns="6″]
[/swatch] [swatch title="TORLYS Florence Designer Cork Townline Dark Rum" columns="6″]
[/swatch] [swatch title="TORLYS Everwood Elite Blackrock (Luxury Vinyl Tile)" columns="6″]
[/swatch] [swatch title="TORLYS Reclaime Laminate Manor Oak" columns="6″]
[/swatch]
Country Casual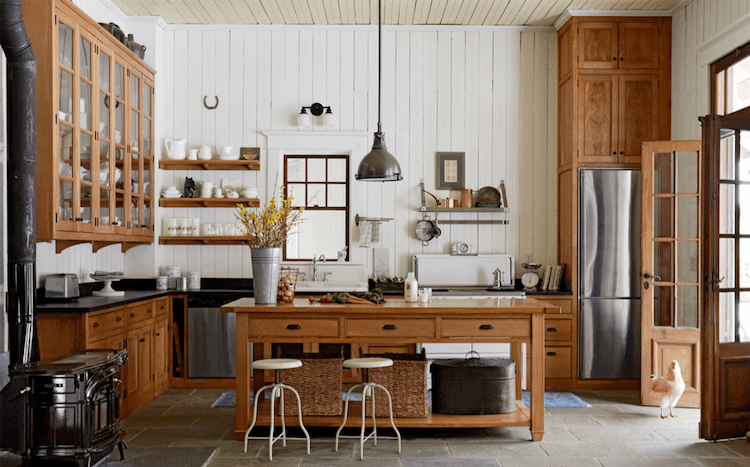 Whitewashed oak, maple or pine are perfect kitchen cabinet choices if you are trying to create a French country kitchen. A white transparent stain over natural wood creates a vintage quality making grey and antique white a perfect colour scheme. Grey stained wood floors are the latest trend and there are lots to choose from:
[swatch title="TORLYS Reclaime Laminate French Country Oak" columns="6″]
[/swatch] [swatch title="TORLYS Florence Elite Cork Burl Flagstone" columns="6″]
[/swatch] [swatch title="TORLYS Everwood Premier Cobble Beach (Luxury Vinyl Tile)" columns="6″]
[/swatch] [swatch title="TORLYS Summit Elite Hardwood Springfield Maple" columns="6″]
[/swatch]
Bright White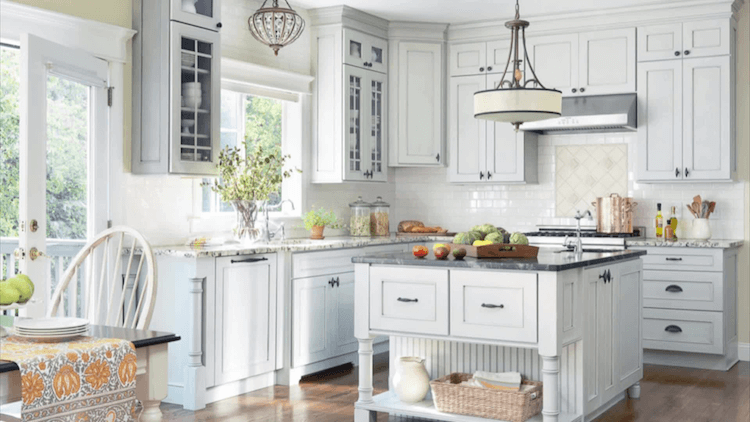 White kitchen cabinets are perfect if you want a décor that is fresh, clean and spirited. A white colour scheme makes small kitchens appear bigger and dark kitchens brighter. In this case, the cabinet style has a relaxed country feel with lots of vintage details. In keeping with this theme its best to introduce a natural wood floor with lots of natural grain character. A white floor could wash out the space and a dark floor is too dramatic for the charm you are trying to create. Here are TORLYS options in EverWood (luxury vinyl tile) , laminate, hardwood, and cork:
[swatch title="TORLYS Summit Elite Hardwood Bristol Oak" columns="6″]
[/swatch] [swatch title="TORLYS Everwood Premier Spring Creek (Luxury Vinyl Tile)" columns="6″]
[/swatch] [swatch title="TORLYS Sugar Hill Laminate Century Oak" columns="6″]
[/swatch] [swatch title="TORLYS Classic Elite Cork Burl Natural" columns="6″]
[/swatch]
Classic Contemporary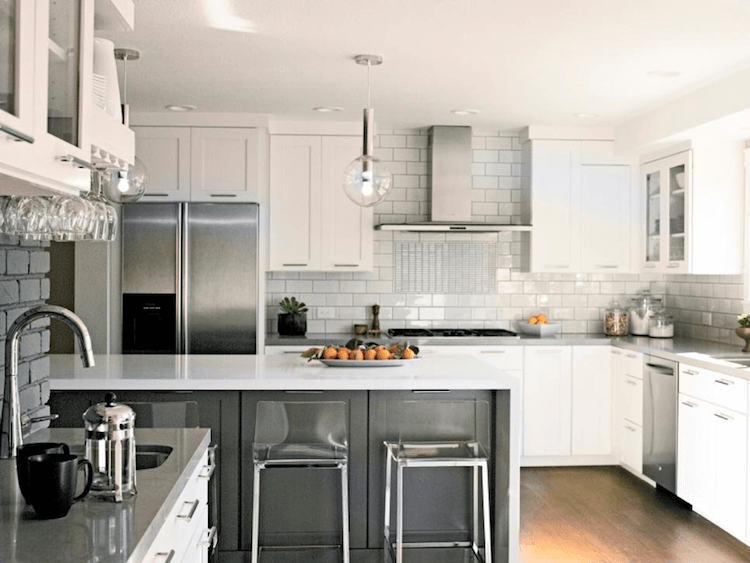 If you want a modern kitchen and want to avoid going too starkly minimal play with texture. In this case, the shaker cabinets are simple but the subway tile and brick backsplash add warmth and character as does the addition of polished chrome, acrylic, and glass. The right floor will also warm things up. This space is very neutral the right floor will add character without disturbing the classic modern feel. Here are a few suggestions:
[swatch title="TORLYS Hampton Laminate Cinnamon Chestnut" columns="6″]
[/swatch] [swatch title="TORLYS Supersolid 5 Hardwood Glenview Oak" columns="6″]
[/swatch] [swatch title="TORLYS Everest Designer Hardwood Cliffside Walnut" columns="6″]
[/swatch] [swatch title="TORLYS Everwood Elite Tahoma (Luxury Vinyl Tile)" columns="6″]
[/swatch]
---