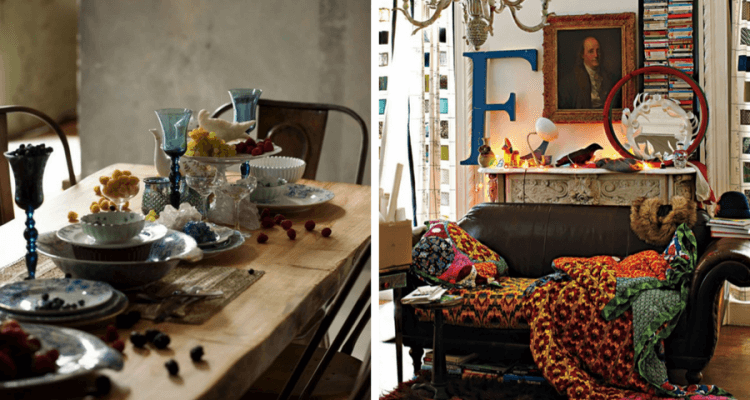 Personalizing Your Space
Rather than pouring over mountains of magazines to determine what you want your space to be, follow the latest "anti-design" trend and personalize your space! In the 1960's it was called bohemian style, in the 1990's it was called "eclectic living", and today we call it "curating your space". The names are different but the rules are the same: personalizing your space is all about what you like and putting your lifestyle first. The interiors may be jumbled or they could be sparse it is up to you.
We've collected a series of personalized spaces as examples:
Personalizing Your Space for Life, Work, and Play
The formula to personalizing your space is simple. The arrangement of the decor should suit how you have always wanted to live, work and play. If reading is your passion, then book-lined walls, floor lamps and big comfy chairs should be the focus; not a formal sofa or china cabinet.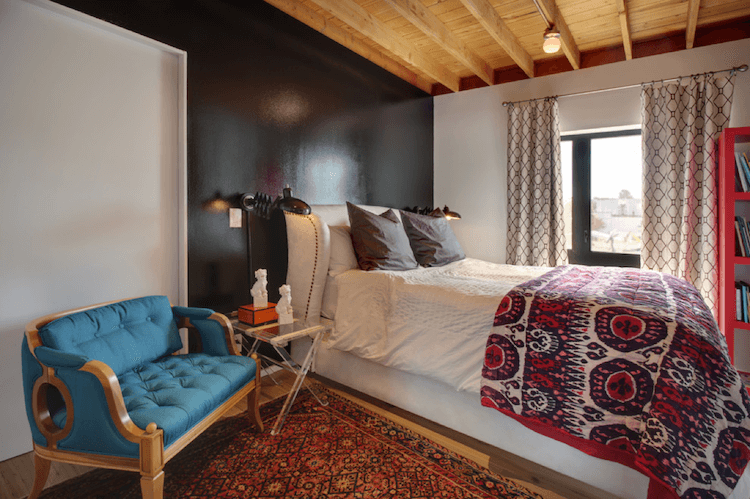 Function over Design: The space is not large so the décor is set up to maximize personal comfort. The bed is positioned to take advantage of the view; lighting and wall shelves reflect an avid reader; and the colour story is classic and timeless. The small settee creates an ideal spot for reading if it is not quite time for bed. Image from Rize Studos.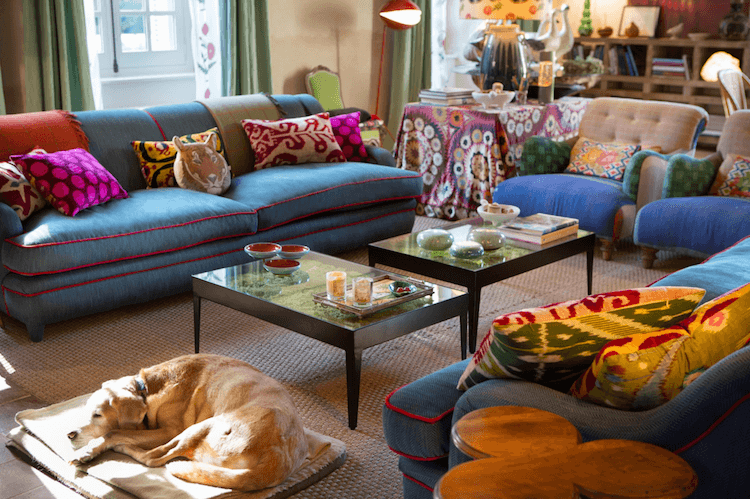 Design to Entertain: This space is an ideal set up for entertaining guests. There are lots of seating options; no one sits outside the circle (including the family pup); and everyone has a spot for cocktails and munchies. The interior design reflects a boho feel with lots of mismatched colour and print. You can imagine the fun, expressive personality of the owner. Image from Aleteia.
Design by the Decades
Choosing an era or decade can be helpful for personalizing your space. If you have always liked the 1960's then shopping garage sales for mid-century modern furniture and accessories is the answer. Research the era and start collecting iconic pieces that speak to the decade.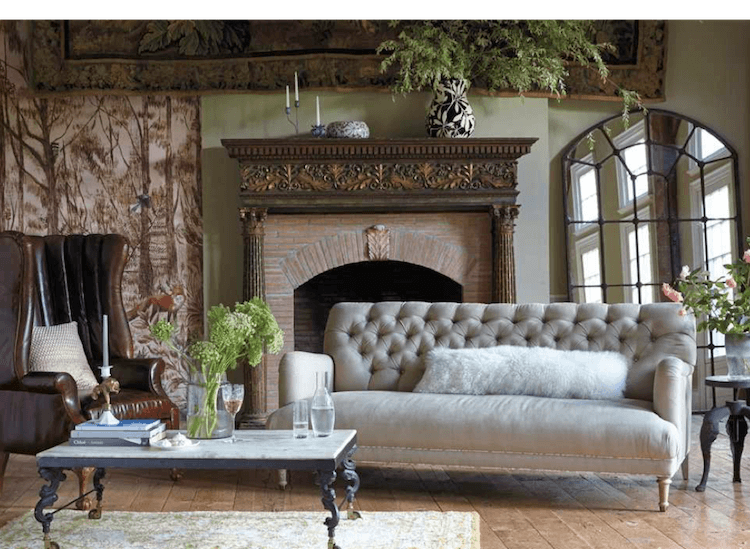 Personalize Vintage: Every item within this room is rooted in traditional design and, if set up in perfect symmetry, the decor would feel old and stuffy. However, because the items are large in scale and positioned asymmetrically (off line), the room has a contemporary, over stuffed feeling of comfort.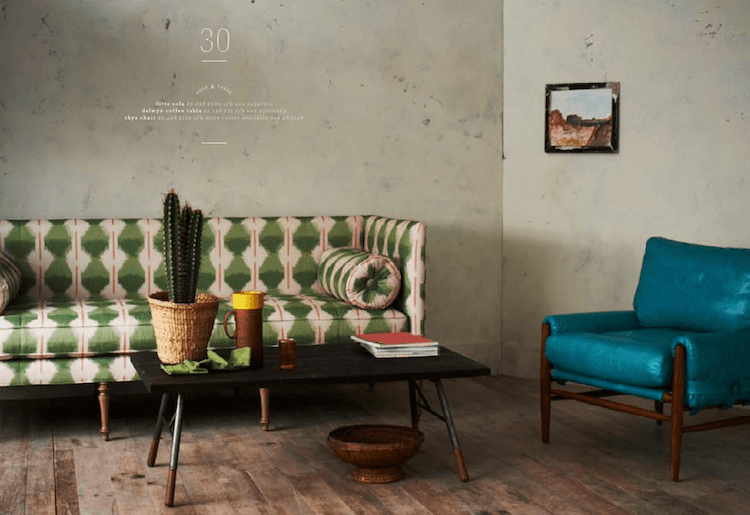 Mid-Century Statement: If the 50's is an era you love, this space is perfect. The bold use of colour and pattern showcase the vintage furniture. The sparse use of artwork and accents reflect an "anti-design" attitude. The contrasting cement wall finish and distressed floor provide the perfect contrast. Definitely a one-of-a-kind living room. Image from Anthropology Home.
Picking Patterns and Textures
Once you have a focus, then decide on a colour family (brights, neutrals, pastels etc) and a pattern and texture preference. Start scouting textiles, artwork, accessories that compliment that theme. Texture is important. If comfort is key to the room, then textiles should be soft and tactile. If retro modern is the direction, then high gloss finishes and geometric shapes are key.
The shopping, collecting, and rearranging never ends with a personalized space. Just as we change our minds, so does our interior décor. As you are pulling your space together, stop frequently and assess your progress. The space should make you feel 100% at home. It should make you feel happy and totally comfortable. The only rule you shouldn't break is to be true to what you like.
Don't be shy or conservative with your choices! It is fun to add a significant or dramatic accessory that is your statement piece. If you love the outdoors and love to cycle, then hang your bike vertically on the entry hall wall. If music is your first love, cover the walls in sheet music, album covers, and vintage instruments.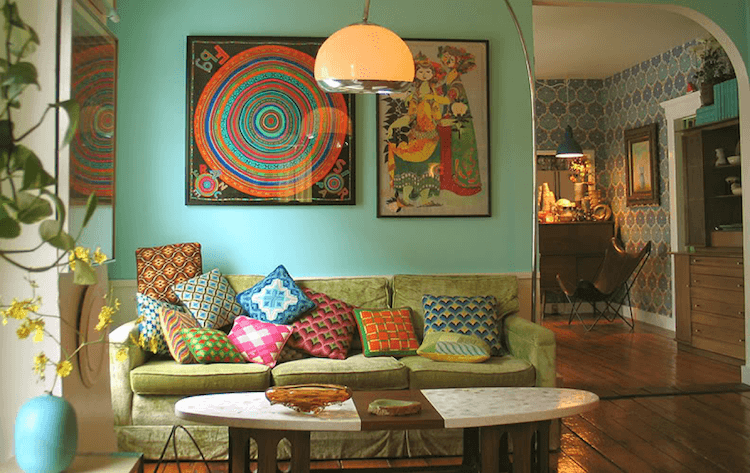 Love of Colour and Print: If you never tire of colour and love graphic patterns this space is a perfect personal reflection. The colours are saturated and bold without being too loud. The prints do not match, but they flatter each other and create a creative energy in the space.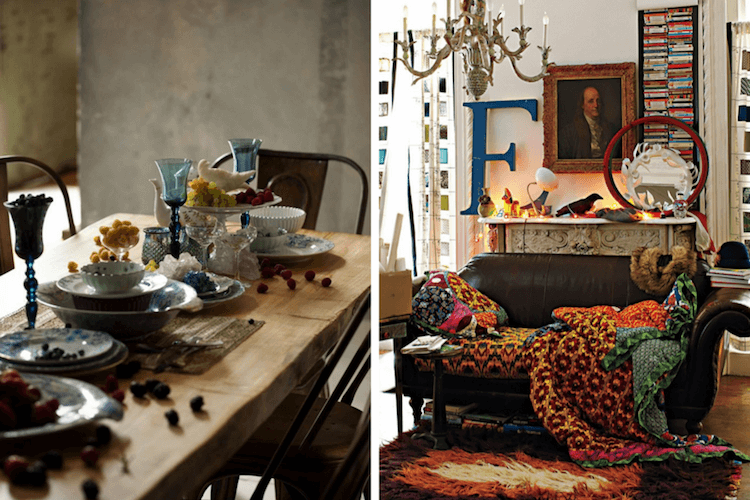 Mix and Match (left): Personalize your brunch buffet or a seasonal table display by breaking the rules and mixing and stacking different shapes of serve ware. Scattered fruit, cheese, and nuts for mingling guests to munch on prior to the main meal. The mix of stemware with lower profile plates creates a better landscape. Add candles and flowers for a special occasion.
Bold Decisions (right): The giant "E" on the mantel could reflect a name or represent what they were going for like – "enjoy" or "everything (I love) " There is no rhyme or reason to the décor except the scale, texture, and colour scheme are bold. It's all vintage, but the era's are 100's of years apart. You could define the personality of the owner as confident and "one of a kind". Images From Anthropology Home.
Unique Flooring Options
There are lots of choices when it comes to design. Even flooring has totally unique options. Check out the TORLYS cork line if you love natural organic textures. The variety of colours for TORLYS laminate, wood or vinyl floors is awesome: everything from white to rich browns and shades of grey. Floor surfaces can be perfect or they can come with imperfections built into the design. Here are a few examples: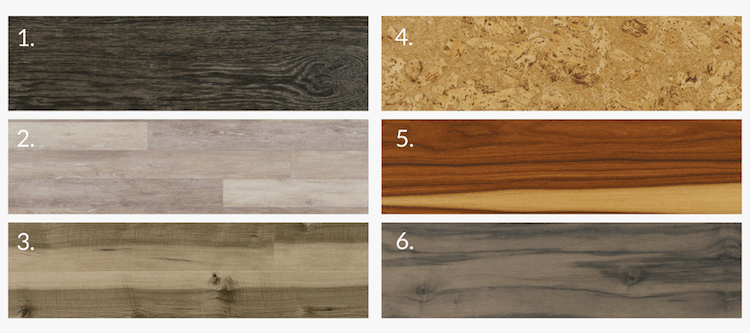 1. TORLYS Everwood Elite Tahoma (Luxury Vinyl Floor): The dramatic grain of Tahoma makes it ideal for a rustic cabin or industrial space.
2. TORLYS Everwood Premier Cobble Beach (Luxury Vinyl Floor): Soft soothing grey tones makes this vinyl floor an ideal choice for a spa bathroom.
3. TORLYS Sugar Hill Laminate Skyline Hickory: Vintage best describes this floor, works for a relaxed cottage or 19th-century country feel.
4. TORLYS Classic Elite Cork Burl Natural: Cork has a rich organic look perfect for a space that reflects an indoor-outdoor theme.
5. TORLYS Everest Designer Hardwood Rosewood: The unique grain of Rosewood is a dramatic one-of-a-kind flooring choice.
6. TORLYS Artisan Elite Hardwood Cobble Hill Maple: Smokey shades of grey give this hardwood maple floor a vintage feel of imperfection.
Personalizing Your Space
The names are different but the rules are the same: personalizing your space is all about what you like and putting your lifestyle first. Find your local TORLYS dealer to create the perfect backdrop for your personal style.
---