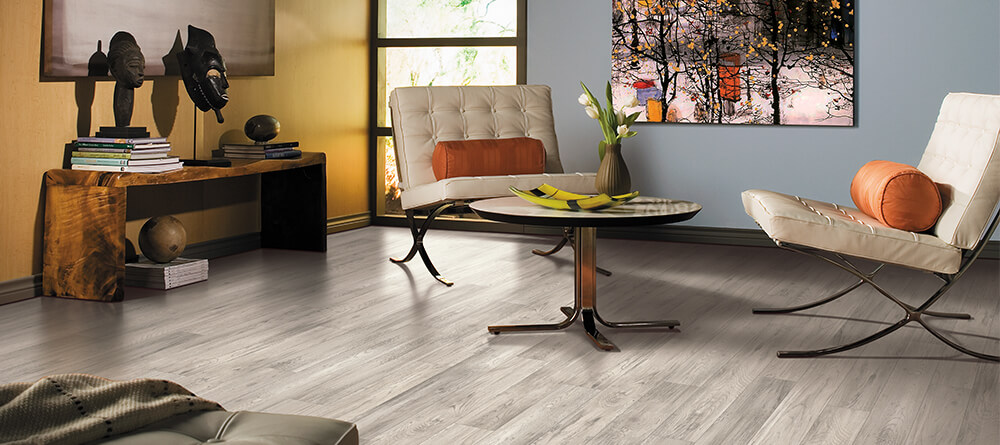 Styling Grey Floors
Grey hardwood or laminate flooring is versatile. Its clear, glassy appearance enhances natural light, opening spaces to make rooms feel airy. While a grey floor looks delicate, scratches and stains seem to blend right in. Grey floors are timeless and your decorating options are endless. Warm and cozy. High-tech and contemporary. Traditional and elegant. Read more to find out how to create your ideal space.
5 Shades of Grey Floors
The key to styling your grey floors is understanding the shade of grey your floors are because grey flooring isn't just "grey flooring". Every grey hue has undertones that give it a personality of its own. A personality that needs to be considered when deciding on décor pieces. There are five main shades of grey floors:
Yellow
Brown/Beige
Red
Blue
Green
Yellow, brown and beige tones will give a grey floor a soft, comforting feel. Grey hardwood or laminate with a blue or green tint will make a space feel cool and contemporary. The darkness of your floor can also change its personality. Light grey floors will create an airy and open space; darker shades will make a room look more intimate and modern.
Styling Grey Floors
Now that you know more about choosing the right shade of grey floors, let's take a look at decorating them because no matter what shade or hue you choose, you need to follow these guidelines to create the perfect feel for you and your space:
Dark Floors
Pops of red add a bold statement to an otherwise neutral room and look good with dark grey floors. Other bold colours like black and white can add some drama and a modern vibe to your space. However, if your floors have a dark brown hue, black acts as a neutral because it blends in with the hue of the floors more. Other neutral colours also look great with brown-grey floors.
Light Floors
Although dark colours bring things in to create a warmer space, using colours with warm undertones can create an airy yet cozy space. Consider adding cream, beige and other warm colours to maintain a neutral, airy look. Creams also soften a red-grey floor, toning down any obvious undertones. Add silver furniture and décor for a high-tech, masculine feel.
Quick tips for styling grey floors:
Pink and purple accents soften red-grey floors while creating a romantic, sensual feel.
Use golds and brown to warm up blue-grey floors.
Pops of blue add an elegant, stylish look. You can do this with pillows, throws, paint and curtains.
Green is a great go-to colour for a relaxing, rustic room. Leafy plants and bamboo furniture can keep your space natural but not boring.
Now that you know more on styling grey floors, its time to find the perfect shade for you. At TORLYS, we have a variety of grey floors available in different sizes and materials. Here are some of our favourites:
---