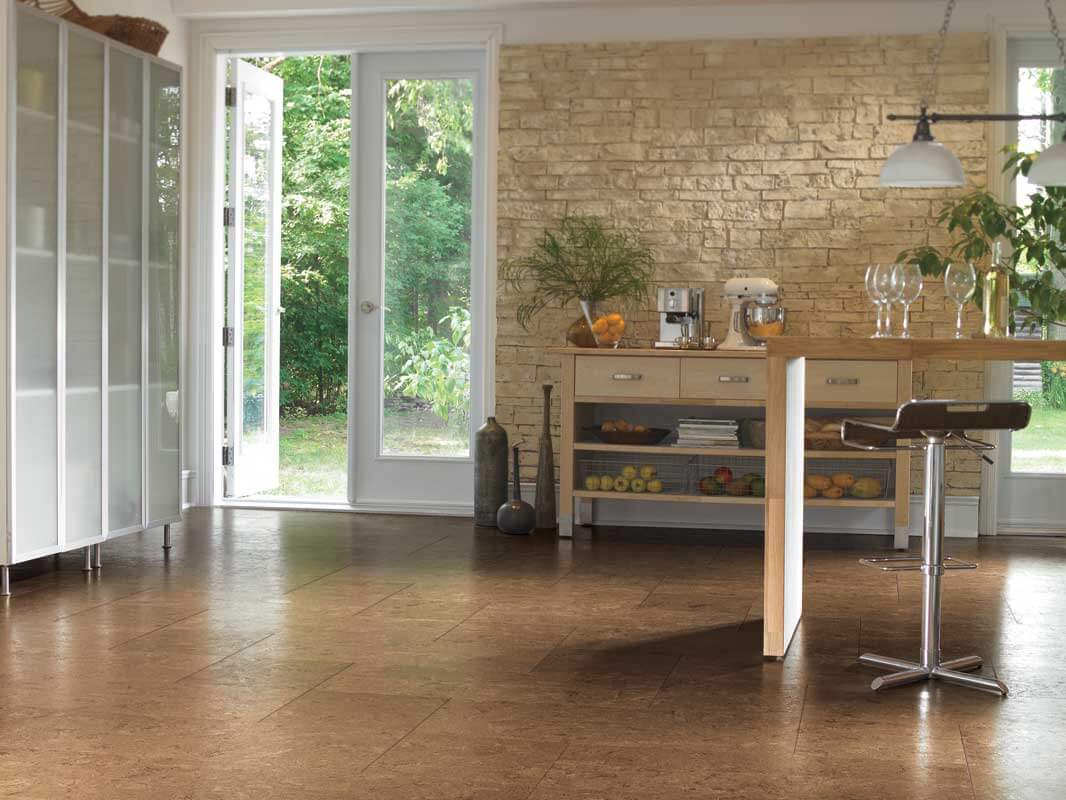 Cork Flooring is What You've Been Looking For
From bottles to baseball to aerospace, cork is used in a variety of industries in many different and unique ways. The secret to cork's versatility is its structure. Cork is highly durable, impermeable and flexible, making it ideal for so many applications, including cork flooring.
Why Choose Cork Flooring?
There are four main reasons why you should consider cork as your next flooring choice: comfort, acoustics, visual appeal and environmental impact.
Comfort
Cork is naturally soft. Its sponge-like consistency absorbs impact. It's no surprise that cork is a key material in footwear and furniture as it cushions your body. A TORLYS cork floor is no different. Composed of millions of tiny cellular air pockets, cork flooring is extraordinary comfortable—something to think about the next time you step onto unforgiving hardwood or tile with an aching back and feet. Cork is also a natural insulator, which means rooms with cork flooring are naturally warm, helping to reduce heat loss in rooms.
Acoustics
Many recording studios use compressed cork for soundproofing purposes. That's because cork's cellular structure naturally absorbs and dampens sound. With a TORLYS cork floor, a stampeding herd of 10-year-olds sounds more like a group of gentle gazelles.
Cork flooring is quiet and comfortable underfoot.
Visual Appeal
TORLYS cork flooring is as striking as it is unique. And its beauty is more than skin deep. Cork flooring is surprisingly durable. In fact, the US Library of Congress installed cork flooring when it was built in the 1890s. The original floor is still there! TORLYS cork flooring is 50% more durable than ever before thanks to TORLYS new, innovative Smart Finish.
TORLYS Designer cork collection includes on-trend colours, thicker planks, and extra-long planks measuring almost 6 feet long. Your company will remember a TORLYS cork floor!
While grey continues to be popular, 2017 also brings a growing return to natural finishes. Cork comes in natural shades like Florence Elite Cork in Burl Natural or a soft brown like Florence Designer Cork in Townline Dark Rum. We're seeing a continued desire for wider and longer planks across all flooring types, and the extra-long planks in cork allows for a more unified look with less joint lines. This allows the natural aesthetic of cork to shine.
If the visuals of cork are not your style, keep an eye out for our new CorkWood product launching May 2017. The beauty of wood, the comfort of cork, and the durability of laminate all in one product! Corkwood offers the appearance of wood, in shades of grey, tan, and other neutrals. It works well for those who like the feel of cork underfoot, appreciate its environmental benefits, but are looking for a more traditional wood visual.
Environmental Impact
Cork is a 100% renewable, recyclable and natural resource. Cork trees are never cut down; instead their bark is harvested carefully and under strict environmental regulation. TORLYS is the first to offer an entire cork collection that is FSC® (Forest Stewardship Council®) certified. A cork tree's bark regenerates naturally and one tree can live up to 300 years.
TORLYS cork flooring also has a positive impact on your environment. Cork is a natural hypoallergenic material and TORLYS floors meet one of the strictest indoor air quality standards in the world (California section 01350). For those who suffer from allergies and asthma, cork can be an option to make breathing easier.
Where Can Cork Floors Go?
Thanks to innovations in flooring, cork can go virtually anywhere in your home. TORLYS cork floors are created like no other—they are water and gap resistant, meaning you can put cork in your kitchen or bathroom without worry.
Keeping Cork Beautiful
Cleaning and maintaining a cork floor is easier than you think. For routine cleaning, use a non-treated dust mop or vacuum. If you spill liquid on your cork floor, wipe it up quickly with a cloth or sponge. All TORLYS cork flooring comes with cleaning kits and maintenance products. Just follow the instructions!
To become even more inspired, see TORLYS stunning cork collection now!
---