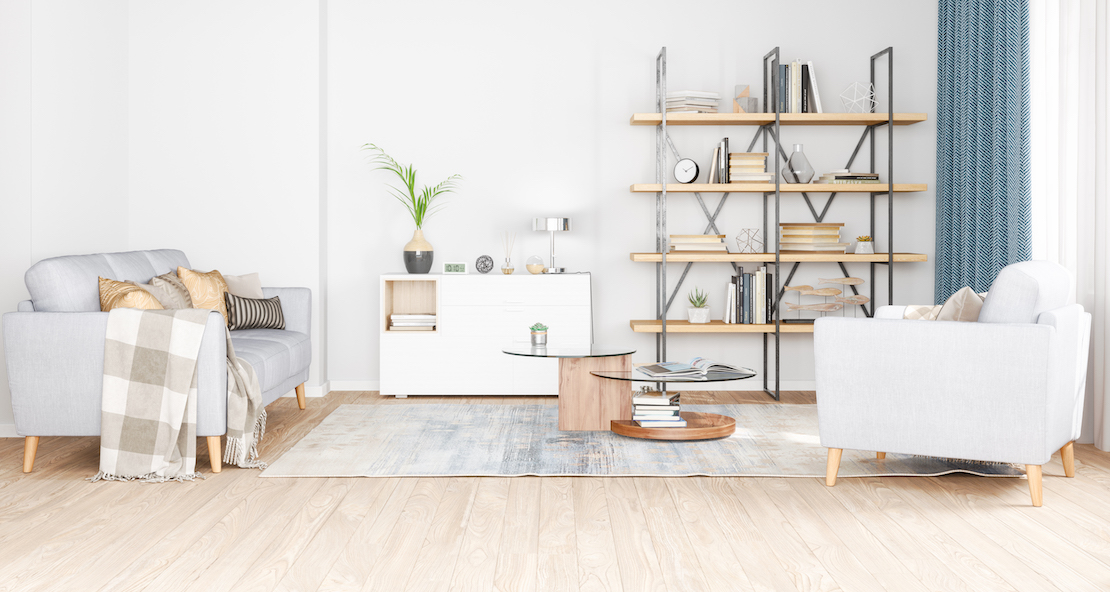 Different Types of Luxury Vinyl Flooring
Vinyl flooring is highly sought after and is one of the most developed types of flooring in the industry, but you may not know the differences and benefits of each type of vinyl. In case you need a refresher before your next flooring renovation, refer to our tips below to help you understand what type of vinyl flooring is best for your needs.
Types of Vinyl Flooring
If you've ever searched for vinyl flooring, you know that there are a variety of constructions and styles on the market. Most recently, Luxury Vinyl Flooring— which includes Luxury Vinyl Tile (LVT) and Luxury Vinyl Plank (LVP) have become extremely popular choices in both residential and commercial applications but there are different constructions and benefits, depending on the type you choose.
So how can you distinguish between these three types of vinyl flooring and decide which one is ideal for your project?
What To Know About Luxury Vinyl Flooring
Luxury Vinyl Tile is designed to imitate the look of stone, tile or concrete without the work, mess or hefty price tag of these materials. Luxury Vinyl Plank is a similar concept, removing most of the limitations of solid hardwood while providing a visual design that mimics the look of wood.
LVF is constructed with several layers, in either WPC (Wood Plastic Composite) or SPC (Stone Plastic Composite). Both options are waterproof and the construction design creates durability and suitability for a variety of spaces.
TORLYS carries both main types of Luxury Vinyl Flooring.  EverWood™ & EverTile™ fall under the WPC category and RigidWood™ falls under the SPC category.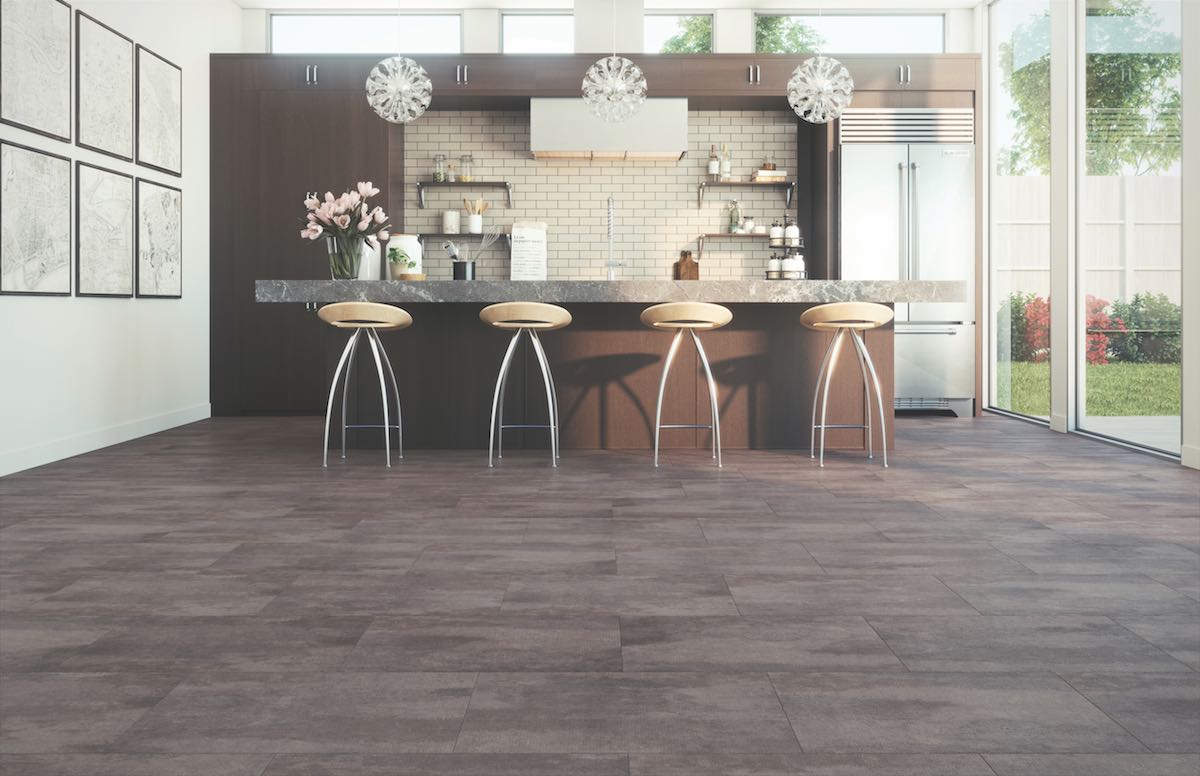 What is WPC Flooring?
Wood Plastic Composite or WPC flooring has a core layer created from wood pulp.  WPC cores mean an extremely durable and comfortable floor, making it a popular choice for residential builders, home renovators, and consumers.  The thick vinyl top layer on TORLYS EverWood & EverTile collections allows for deep textures, resulting in stunning and realistic visuals.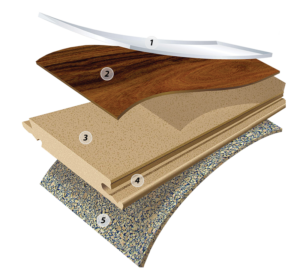 Both the EverTile and EverWood collections are designed with multiple layers from the top down.  A cork underlay is included for additional warmth, comfort and sound insulation with the added benefit of Microban® antimicrobial product protection built-in to the cork backing to inhibit the growth of mould and mildew under your floors.
A 0.5mm top-layer Top layer for ultimate resistance
A decorative layer —this is where the design is printed. There are numerous options to choose from that mimic ceramic tile, concrete flooring and hardwood.
The WPC core which is double thickness of industry standards
Uniclic® joints on each side of the tile or plank for gap-free installations
A Cork-Plus Blue Built-in underlay with Microban® antimicrobial product protection
What Is SPC Flooring?
While WPC remains a popular choice for residential uses, SPC vinyl is more suitable for a commercial environment or any area that will take a beating.  This type of Luxury Vinyl Flooring core is created from stone dust, minerals, and plastic composite.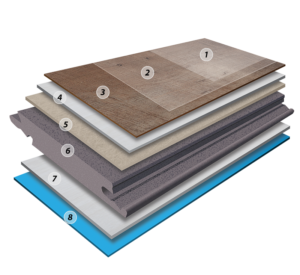 SPC flooring still has multiple layers, but the core is more rigid, dense and heavier than the core in WPC flooring. Premium SPC also has additional PVC top layers and balance layers to ensure the firmness of each vinyl plank or tile. TORLYS RigidWood Premier & Elite collections are prime examples of premium SPC flooring. Its core consists of 8 layers including:
TORLYS Maxx Finish top layer
Heavy Duty Wear Layer (20 mil/0.55mm)
Decorative Print Film in a variety of designs
PVC Top Layer
Sheet of Fibreglass
Rigid Core with Patented Uniclic® Joint
PVC Balance Layer
FoamPlus™ Blue Underlay with Microban®
Similar to WPC flooring, SPC flooring in the RigidWood collection has Uniclic® technology to mimic the look of hardwood flooring. There's also the attached FoamPlus™ Blue Underlay with Microban® technology for added protection. Because of the rigidity and overall durability offered in SPC flooring, it's often used in commercial or high-traffic spaces.
WPC and SPC flooring at TORLYS comes with up to a 35-year residential warranty, meaning the product can be installed and enjoyed with confidence. Should a plank or tile come become damaged, there's no need to replace the whole floor. Just use the exclusive TORLYS Bulldog™ to easily lift out individual planks and click a new one in its place.
Take Away Tips for Vinyl Flooring Types
So what should you keep in mind before you begin shopping for Luxury Vinyl Flooring? Here are a few takeaways to use when deciding on a vinyl floor for your renovation:
Luxury Vinyl Flooring can have a Wood Plastic Composite (WPC) core or a Stone Plastic Composite core (SPC).
A WPC core is ideal for residential use while an SPC core is more often installed in commercial projects
TORLYS EverWood and EverTile flooring are two examples of WPC cores
TORLYS RigidWood flooring is an example of an SPC core
Make sure to visit your local TORLYS dealer to find the Luxury Vinyl Flooring that suits your needs. They can answer your questions about each product line and make suggestions to benefit your renovation.
---