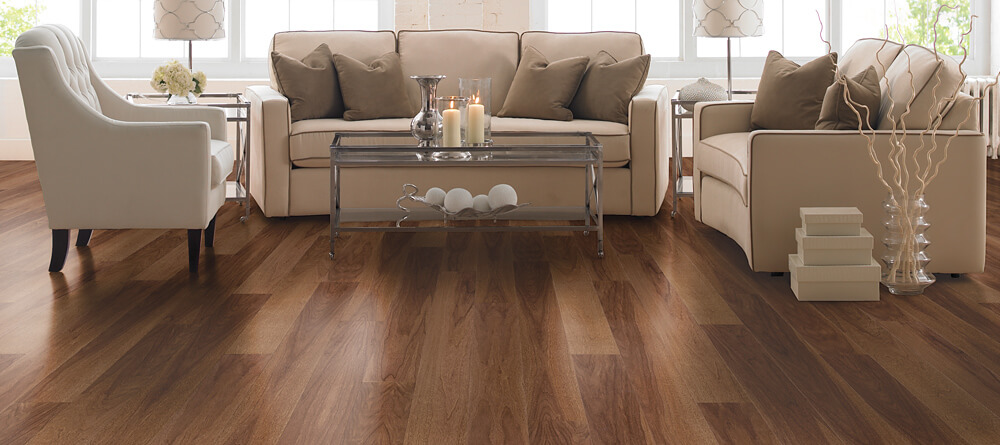 Styling A Dark Floor
Dark flooring is dramatic and breathtaking, but when paired with unflattering furniture and accents, a dark floor can make a room feel claustrophobic and heavy. Follow these tips to open up your room and bring out the beauty of your dark flooring. 
Furniture for a Dark Floor
Finding the right furniture to go with your dark floor may seem daunting, but in reality, you have many options. If you're purchasing new pieces, wooden furniture that is a few shades lighter than your floor is ideal. This will give your space a warm feeling. To make your room seem seamless, match the legs of your furniture to the colour of your floor.
You can also mix and match. Consider selecting a dark wooden table and lighter chairs. The table will blend in with the floor, but the chairs will pop and stand out. You can also achieve the "blended in" look with wrought-iron furniture.
Looking for more inspiration? Mother Nature has it in abundance. Adding palm trees and green accents to your space will make your dark flooring feel exotic. Finish off the look with bamboo chairs, tables, and other furniture.
Your existing furniture can work with dark flooring as well—with a few small touches. If your couches, tables, and chairs are dark and disappear against your floor, a simple, light coloured rug will fix the problem and bring a touch of elegance to your room.
Walls
The design rule is: dark floor, light walls. White or off-white paint will open up your room and give your dark floor a lift. Lighter hues will also have the same effect. Light blue or lavender complement dark flooring perfectly. You should also consider the trim in your room. Painting trims and baseboards a vibrant white will define the area of your space and bring attention to your floor.
If your furniture is white, paint your walls a bold colour, such as Lucky Green by Sherwin-Williams. Add splashes of the paint colour via pillows, rugs and other accents to break up the white.
Another option for your walls is wainscoting. Light wood, tile, cultured marble or stone paneling will contrast with your dark flooring and give your space an elegant glow.
Other Materials and Accents
Leather, hide, velvet and even steel accents will complement a dark floor and give an area a soft, muddy or masculine feel. Think pillows, throws, rugs, and vases. For window treatments, keep them light and translucent—you want as much natural light in a room with a dark floor to make it feel spacious. In the kitchen, white cabinetry and countertops will make the room feel airy.
Rugs—either light or patterned—will break up the darkness of your floor and protect it as well. Remember, dark floors will show more dirt, dust and wear. When selecting your flooring, choose a company that offers superior quality flooring with above-grade finishes, like TORLYS.
---