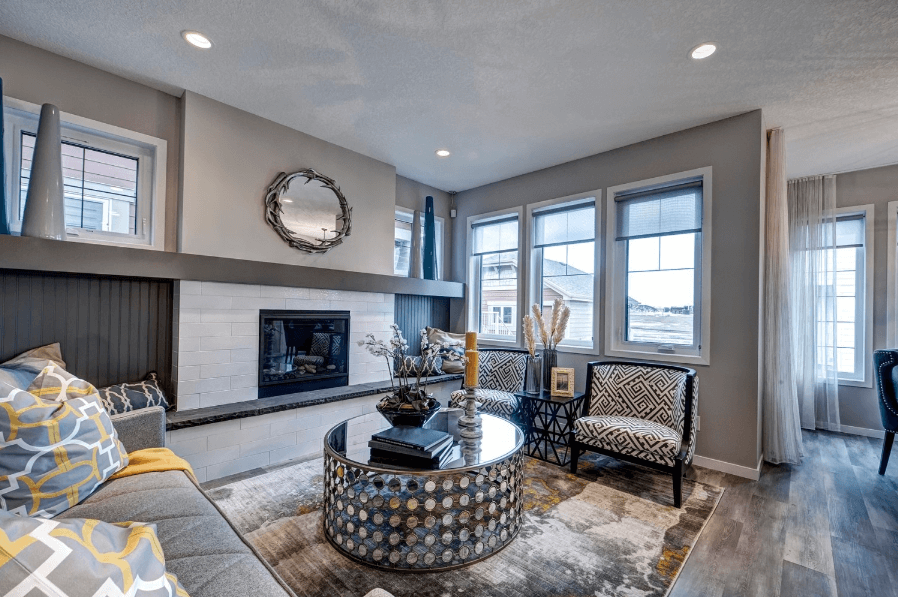 How To Choose the Right Rug For Your Room
Area rugs serve many purposes. They can be used to make a design statement in your home, to section off different spaces, or to protect floors from any wear and tear, or to make floors less cold in the winter. But choosing a rug is comes with some major responsibility because if you choose the wrong one, you could distract. To make sure your rug as a complementary piece to your home's décor and not a distraction, it's important to consider a number of factors.
A rug can be a piece of artwork for your floor, or it can be a distraction. It can open up your room or drag it down. To find the right rug for your space, consider its size, material, and placement before you buy, and follow these tips.
Location is key
When choosing your rug, the most important question is where are you putting your rug? You need to know the answer before you can go any further. Once you know where the rug will live, you'll be able to make choices about the three key design factors listed below.
Three Key Factors for Your Rug Choice:
Size
Material
Style and Colour
Size Matters
Once you know where you'll be putting your rug, you can identify how big the room is and how big you need your rug to be. Just because a rug physically fits in a room doesn't mean it actually fits in a room. Why? Because there are different rug sizes for different rug purposes, and wall-to-wall rugs aren't popular anymore for a reason.
Rugs are most popular in living rooms, dining rooms, bedrooms and as runners in hallways or kitchens. There are also outdoor rugs that are great for decks, especially if you love spending time outdoors.
Rugs for Different Rooms
Living Rooms
In living rooms, rugs are generally placed in the middle of the seating area with a minimum of a 1' border around the walls. Try to have the front legs of your furniture touching the rug to make it feel a part of the space.
Dining Rooms
For your dining room, you need a rug that is bigger than your dining room table by about 2' on each side, so that your dining room chairs are half on, half off of the carpet, creating comfortable seating. But if your carpet is thin, you can try to find one that allows for your dining table and the front two feet of your chairs to rest.
Bedrooms
The main reason for bedroom area rugs is to avoid getting a rude awakening from the cold surface of your floors in the morning. A plush, warm carpet is the perfect landing for your just waking up feet. This is why you want your carpet to reach at least the front two-thirds of your bed and the back feet with an extra 3' around. This creates a beautiful, grand space versus having two runners on each side of your bed.
Entrances
Entrances generally require a runner or a small mat. These rugs are just there as a landing or walkway to protect flooring.
Outdoor Areas
As for outdoor areas, rugs can be put just outside of the doorway or used to cover the entire deck to create an outdoor entertainment area. Depending on your outdoor setup and the general weather in your neighbourhood, choose an appropriate rug size according to previous rules.
To help you find visualize the size of your rug in your space, use masking tape to create an outline of your "rug". Unless you're considering a custom rug, use standard rug sizes. In large living spaces, 6×9, 8×10 and 9×12 are the most popular rug sizes, while 5×8 and 6×9 fit great under beds.
Standard rug sizes:
3×5
4×6
5×8
6×9
8×10
9×12
10×14
12×15
Remember, the point of an area rug is for it to cover the area peoples' feet touch most frequently. Having a border around the walls is a great way to show off your flooring, and if you don't want a rug to cover an entire seating area, you want the rug wherever the foot traffic is highest — either resting or walking.
Material Gains  
The durability of your carpet against any wear and tear, sun exposure, pets, and spills and stains all depends on its material. By choosing the right material, you're choosing a carpet that is functional, feels good underfoot, and is cost-efficient.
Popular Rug Materials:
Silk and viscose

Silk is beautiful and soft underfoot, but expensive. Viscose provides a similar look and feel for a much more affordable price.

Wool

Wool's natural material is warm and cosy underfoot, plus it's durable. Although it can be pricey, it might be worth the extra spending.

Cotton

Cotton rugs are generally low-cost, but can stain and wear easily, but can be thrown into the washing machine to look like new again.

Jute and sisal

Jute and sisal rugs can be a little rough to the touch but are extremely hard-wearing. Look for a jute and sisal rug mixed with wool for added softness.

Nylon

Nylon rugs are a soft, durable option and come in a number of different styles and patterns.

Polyester

Polyester rugs are a great option indoors and outdoors because of their sturdy, shed-resistant and water-resistant material.
Grand Luxury
If you're looking to splurge on a high-end rug and durability is not your main concern, exotic Persian rugs made out of silk, or thick, wool rugs are perfect for you. Costing thousands of dollars, Persian rugs are the ultimate luxury. They feel amazing underfoot, but any spill will have you feeling sick to your stomach. Not being very durable against wear and tear and spills and stains, its best to keep these rugs in rarely used rooms that only see foot-traffic during special occasions.
Other high-end rugs like wool and silk rugs are not as expensive as Persian rugs but are still considered a carpet splurge. Although on the pricier side, wool rugs are a popular choice for high-traffic areas because their natural, durable fibres resist stains and deterioration.
Stylish Durability
For everyday rooms like a casual living room, durability is key, especially if you have kids or pets. Take what goes on in the space you're rug shopping for into consideration. Is there any constant movement of chairs being pushed in and out? Does food get dropped on the ground frequently? Do dirt and mud get dragged in from taking the dogs out for a walk? Although everyday rooms like living and dining rooms need durable rugs, areas like entryways and kitchens usually need to be more hardwearing due to wear and tear from shoes, dirt, and food.
Hard-wearing rugs not only last longer and resist wear and tear, they also protect the floors underneath them. Choose the material of your rug according to cost, feel, and durability, while keeping the rug's construction in mind.
Rug Construction:
Tufted/Hooked

Made by looping yarn through the rug's backing, tufted rugs are durable but can shed more than other rugs. Hooked rugs are similar to tufted rugs except their loops are not sheared, giving them a thicker pile.

Flat-weave

Flat-weave rugs are made by weaving horizontal yarn through vertical yarn and don't have a backing, making them reversible. They are low-pile and great in high-traffic areas.

Shag

Shag rugs are high-pile and super warm and cosy, making them great for bedrooms and living rooms. They are not ideal in high-traffic areas because their thick pile holds on to dirt, mud and food.

Hand-knotted

The most labour-intensive rug-making technique, resulting in durable and expensive rugs.
Weather Resistant
The first thing that comes to mind when weather resistance is brought up is water. But, rugs also need to be sun resistant because UV rays can cause fading very quickly.If your rug is near an entrance, make sure it is stain and tear resistant. Mud, dirt, leaves and water can cause hard-to-remove stains and also start unweaving your rug. Water can also create a slippery situation, so remember to choose a non-slip rug or to get a non-slip mat for underneath it.
If your rug is in an area with a lot of windows, choose a rug that will keep its colour. Natural light can change the colour of rugs made out of natural materials, especially cotton. If you do go ahead with a cotton rug in an area with a lot of natural light, choose a light colour or a colour that will look good even a few shades lighter.
Synthetic and polypropylene rugs are UV and water resistant, and they're easy to spot clean. Plus, they feel good on your feet and don't break the bank. Another good alternative is nylon, its higher quality and sold in bulk making it affordable.
Style/Colour
Size and material aside, the style and colour of your rug is what everybody, especially you, will see. Of course, for high-traffic areas, we recommend choosing a dark carpet with a pattern to hide any stains or wear and tear. But practical advice aside here's a quick list of our design tips.
3 Tips for Choosing the Right Rug for You
Coordinate the colour of your rug to match the same tone as your furniture, floors and paint.
If your space is already very decorated and extravagant, consider a neutral, one colour rug or a rug with a subtle pattern.
In a minimalistic space, an area rug can be the biggest piece of furniture so spice things up by thinking of your rug as a piece of art.
Last but not least, do your research because the wrong decision, depending on the rug's size and location, will affect your daily comfort. We recommend reading reviews on your rug, asking salespeople about its performance, and walking around on the rug before making your purchase.
Remember, you want your rug to suit your space. Make sure its the right size for your the room, the right material for the room's activities, and the right design to suit the rest of the decor. Find our TORLYS floors online  to keep our styles close by when shopping for a rug or visit a dealer  to see them in person.
---