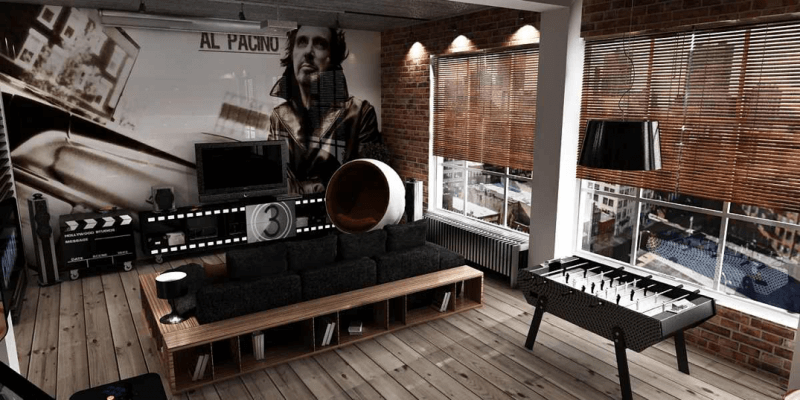 TORLYS Design Notes: Vintage Industrial
We love the vintage industrial design look. It's warm, inviting, on-trend and chic. But what exactly is industrial interior design? And how do you achieve the look?
What is Industrial-Style Interior Design?
Industrial interior design is a design style that started in the early twentieth century, when European countries started moving their operations to low-cost countries, resulting in the many factories shutting down. Though there was no operational need for the factories, people needed residences, thus the factories were turned into condos and apartments, and industrial style became the next design trend.
Highlighting the factory's architectural design elements, industrial style mixes rough, natural materials with cool metals. The style is similar to Scandinavian interior design, which is minimalistic, and uses neutrals and light woods to create a Nordic feel, yet it uses cooler, darker colours and more stainless steel.
Industrial-Style Design Tips
For those who love this design style, there's good news for you: You don't have to find a condo in an old factory to get the look! There are many decorations and design elements that are achievable in a regular home to get that industrial vibe.
 For starters, here's a list of industrial elements:
Exposed brick
Exposed ducts and plumbing
Concrete floors, countertops and walls
Neutral tones: Black, white, charcoal grey
Repurposed furniture
Industrial lighting
If you're looking to get a better feel for the interior design style, get inspired by the root of the trend by looking at old warehouses, factories and military buildings. We also recommend searching for condominium buildings that used to be an old factory.
How to get the look:
Industrial style is all about showcasing elements others try to hide, and mixing reclaimed, rustic elements with metal. Although the trend was started to save money by not having to cover up ducts and plumbing, achieving the look and deconstructing walls to expose these elements is pricy. If you have the budget for it or not, there are many things you can do to achieve the look.
Exposed brick walls.
You can achieve this look by removing any plaster or drywall in your home. But not everyone can be so lucky to find brick. What you can do is add real brick to a wall, or find a brick pattern wallpaper. The red adds a warm, rustic feel and is a popular industrial element. If you're not a big fan of exposed brick, do a gallery wall to share all your memories. Using black and white photos will really add to the vintage industrial look you're going for.
Exposed ducts and plumbing.
Exposing these elements can be costly but they make a true industrial-style statement, so if you have room in your budget, it's worth doing. If you don't, adding some metal piping in other ways can help you achieve the look. The best way to do this is by using furniture with metal frames. For example, a wooden coffee table with black metal legs. Furniture plays a large factor and there are a lot of options out there to fit this style.
The use of concrete.
Concrete is cool looking and to the touch. It's grey colour and rough, cold surface is perfect for an industrial look. Concrete floors, countertops and even concrete walls add a beautiful, durable and neutral finish to a home. Just be careful, concrete can be cold underfoot. If you choose to use concrete, add some area rugs to warm things up.
A neutral colour palette.
A neutral colour palette keeps things minimalistic and doesn't take away from any of the industrial elements in the space. Use some dark browns and greys to add some depth, or even some camel for your furniture, but other than that we recommend sticking to black and white. Along with neutral colours, use mild patterns. No fancy swirls or designs.
Repurposed furniture.
Adding to the points made under "Exposed ducts and plumbing", repurposed furniture is a must if you want to have a concise flow of industrial-style elements throughout your home. Look for vintage pieces at your local antique store or thrift shop. Go for wooden and rustic metal pieces, and pick up some leather finds that have a worn look. Industrial furniture is usually bold, so choose whatever stands out to you and makes a statement.
Industrial lighting.
Use light fixtures that expose normally hidden elements, like black or stainless metal framing and exposed light bulbs.
Vintage industrial style highlights old factory architectural design elements and can be similar to Scandinavian interior design. At TORLYS, we carry a number of different floor styles. Visit a TORLYS dealer  to find the right floors for your vintage industrial space.
---