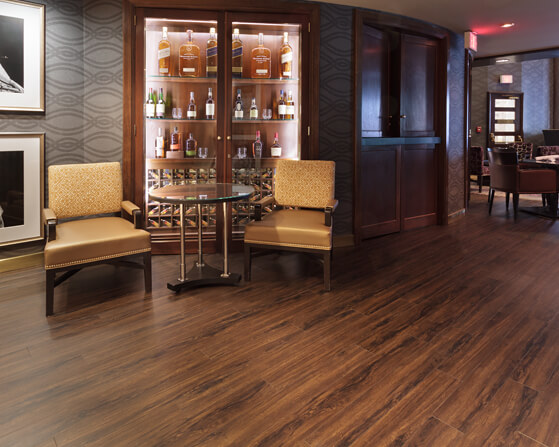 Four Musts for Flooring Your Establishment
If you're like most business owners, you want your establishment to impress your guests to keep them coming back. Nowadays, aesthetics are important to guests, especially savvy millennials. Everything from paint colour to decor to lighting to art on the walls helps you create the atmosphere and look you're going for because as everyone knows, little touches make a big difference.
But what about the floors? They cover a large area of your establishment. Choosing the right colour can help make your space look bigger or cosier, more modern or traditional. Choosing the right surface can help your floors resist any wear and tear resulting from high-traffic or the moving of furniture.
The point is, choosing the right floors for your establishment is a big decision, and we're here to help you make the right one. Here are four things to consider when choosing the floors for your establishment:
Beauty
When guests visit your establishment, they want a little bit of luxury—nice linens, amazing drinks, impeccable food and trendy décor. After all, it's their getaway or night out. Deciding on a floor is just as important as selecting a picture. The right floor can make your establishment look stunning, stylish and in some cases, more spacious.
Today, hotels, restaurants and bars are featuring more hardwood because of its impressive good looks. While hardwood is beautiful, it does have some downfalls (e.g., it can scratch and dent easily). However, TORLYS EverWood and EverTile takes hard surface flooring to a whole new level. Available in a variety of the latest colors and styles, this hybrid floor is gorgeous and then some.
Durability
The amount of traffic a hotel, bar or restaurant sees—and we hope your establishment sees a lot—can cause substandard floors to crumble under the pressure. Dropped plates and glasses, wheels from luggage, high heel shoes and daily wear and tear caused by constant foot traffic can leave a floor scratched, stained, dented and dull. Even if your floor can stand up to your patrons, humidity from a kitchen or pool can cause certain floors to cup or warp.
Hard surface flooring typically last longer than soft surface flooring. You also want to select a floor with a strong core that will stand up to dents and a finish that is scratch resistant. TORLYS EverWood flooring has both and is repairable plank-by-plank thanks to TORLYS' unique patented Bulldog™ Easy Plank Replacer. Plus, it's waterproof and incredibly quiet.
Cleanliness
Guests can be messy. Waiters can drop drinks. Chefs can spill dishes too. Your floor needs to be durable and easy-to-clean to prevent health hazards. Again, hard flooring is the best choice. Simply swipe-mop a TORLYS EverWood or EverTile floor and it's clean. TORLYS floors also feature Uniclic joints that eliminate dirty grout lines as well.
Floors that are easier to clean have less dirt and grime, which means less mold and mildew growth. Guests with allergies will be more comfortable, the air will be cleaner, and "musty" carpet smells will no longer be a problem. All TORLYS floors are anti-microbial.
Affordability
Solid hardwood flooring can be expensive, but who says you need SOLID hardwood flooring to achieve a trendy and stylish look? EverWood flooring looks just like solid hardwood, but outperforms it. And it costs less. Plus, all TORLYS floors feature Uniclic joints that allow you to replace one plank at a time. If only a few planks are damaged, then that's all you need to replace—not the entire floor.
Whether you're remodelling a space or creating a brand new one, don't forget about the flooring. They make a major impact on your establishment's design and atmosphere while affecting your expenses. That's why we recommend luxury vinyl flooring.
The right floors for your establishment will impress your guests and create a welcoming space for your employees. When looking for the perfect floors, look for something that look good, will hold up against daily wear and tear, is easy to clean and is within budget.
Luxury vinyl floors, like TORLYS EverWood and EverTile are the perfect combination of beauty, durability, cleanliness and affordability for your establishment. Take a look at how other businesses have incorporated our floors in their establishments, and explore our flooring options to find the right design for you.
---