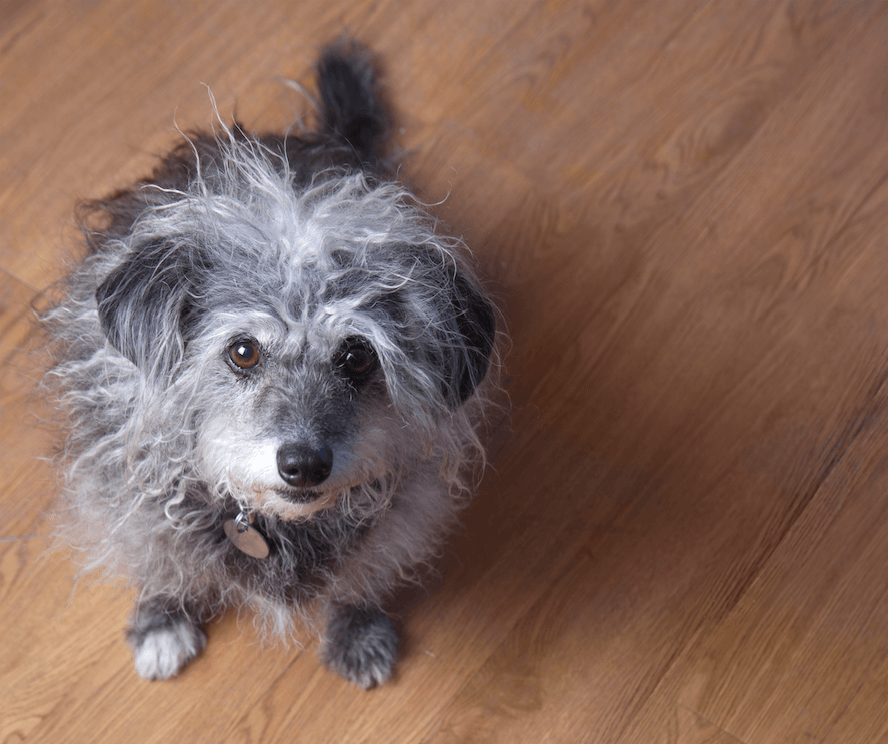 The Best Flooring For Furry Family Members
Dogs are our beloved, and often energetic, fur babies. They run to the door to greet us. They run to the door to go out. They run to the door to go for a walk. And all this running can cause unrepairable damage to flooring, if your floor is not suitable for pets. Below, we've rated the most popular flooring choices on their pet-friendliness so you can make the right decision for your pet-friendly home.
Hardwood
Hardwood is one of the most beautiful and popular flooring choices on the market today. However, it's not the best choice if you have pets. "Accidents" can stain wood and soak into the planks, even if you clean them up quickly. If you have a TORLYS hardwood floor, you can replace stained sections with the TORLYS patented Bulldog™ Tool. If it's not TORLYS hardwood, you may have to strip, sand and refinish your floors, however, stains may reappear because salt crystals found in pet urine tend to seep deeply into the floor.
Spills from water bowls and sharp nails can also ruin hardwood even if your flooring is coated with a high quality urethane. In fact, pets can actually do more damage to hardwood than children. Pets are just too hard on hardwood.
Rating: 2 paws
Laminate
Laminate is more durable than hardwood, making it a much better choice for pets. It won't show scratches, stands up to house training and is easy to clean. Plus, laminate flooring is now trendier than ever thanks to advances in engineering and design. Premium laminate looks just as good as hardwood, and outperforms it.
Laminate does have some downfalls though. Pets, especially dogs may slip and slide on its surface. Embossed or textured laminate may help prevent accidents. You can also put down non-slip rugs for everyone's comfort.
Rating: 4 paws
Cork
Surprisingly, cork is a good choice for pets. Cork's antimicrobial properties reduce the growth of mold and other allergens. Low-allergen flooring will also help family members with pet allergies.
Cork is moisture resistant, when treated properly with layers of durable finish. Accidents and other spills wipe up easily and won't leave a stain or an odor when cleaned up quickly. It is also scratch resistant, comfortable and quiet—Fido's pawsteps will not be as loud on a cork floor.
Rating: 4 paws
Tile
Tile is a good choice for pets, in terms of wear and tear. It is tough and won't scratch easily. Urine will not damage its integrity or seep into it. However, all the qualities that make tile ideal—durability and imperviousness—make it uncomfortable for pets and their people. Tile is extremely hard and often cold. Rugs can help, but make sure they are non-slip to prevent falls.
Rating: 3 paws
Vinyl
Luxury vinyl flooring is an excellent solution for home owners who love pets and sophistication. Coming in a wide range of styles and hues, luxury vinyl is scratch and stain resistant as well as easy to clean and maintain.
Like cork, vinyl is also low-allergen and quiet to walk on. It's also considerably more comfortable than stone or tile. Pet friendly, kid friendly and fashion forward, vinyl is purrrfect.
Rating: 5 paws
Carpet
Some experts claim that carpet is the worst flooring choice for pets for two reasons. First, it's easily damaged. Nails and rough paws can destroy fibres, especially if the carpet is looped or berber. Second, it's harder to clean than other type of flooring. Accidents soak in easily and quickly. Dust and dander will embed into it.
Carpet does have some benefits though. It's soft and comfortable. It also absorbs sounds, muffling the pitter-patter of little paws and feet.
Rating: 1 paw
When it comes to choosing the best floor for your pet friendly home, take your time and consider a more expensive option. Higher priced flooring is more durable, and in the long run, the best bet for your pet. You may need to replace a lesser quality floor, or the wrong type of flooring, after a year or even a few months.
---