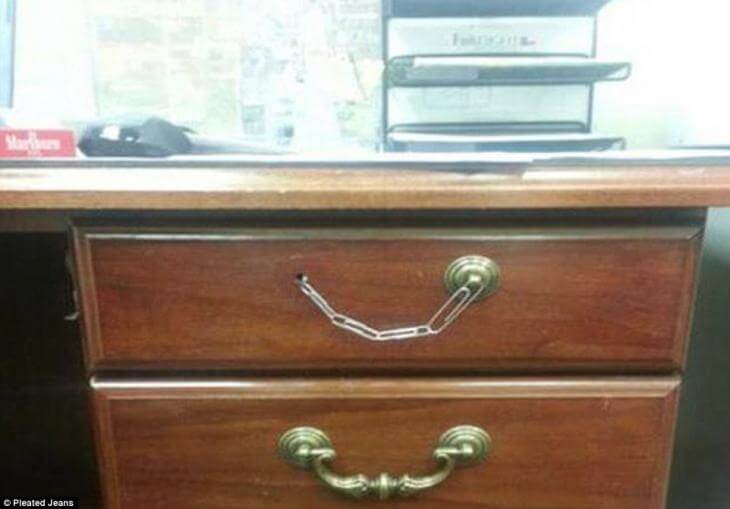 DIY Disasters to Make you cringe Part 2
These DIY disasters are prime examples of homeowners throwing conventional wisdom out the window and failing miserably.  Some are a result of laziness, and others, from getting a little too creative.
Here's our second installment of DIY disasters.
Literal bedframe shelves
Bed shelves can look great—when they're properly attached to a bed frame.  Not when they double as the bedframe!
This "creative" solution looks extremely tacky and also somewhat unsafe.
Paper clips = always a bad idea
Using paper clips to fix your broken drawers is a sure-fire way to de-class your home.  Avoid quick solutions like paper clips, staples, scotch tape, and all other stationery materials in your DIY endeavors.
Purse Planter?
Finding a use for a clothing accessory other than its intended purpose is certainly creative.  But it rarely works as a design choice.   This purse planter is no exception.
Chair Turned Hall Tree
This DIY hall tree almost works.  If the homeowner removes the stool from the picture, the mounted chair backing would stand alone reasonably well.  It might not suit everyone's taste but it wouldn't look terrible.
However, as it stands now, it looks like a decapitated chair.  The guillotine vibe that it gives off isn't cool. It's creepy.  These aren't the images that you want to put into your guests' minds as they enter your home.
The best DIY solutions are the ones that don't look like DIY solutions.  Don't ruin a project by drawing too much attention to it.
Bike Vanity
"You know what this bathroom really needs?  A bike!" said no rational designer ever.  Just because it's original doesn't make it okay.
DIY projects sometimes fail in their execution.  This one failed in its idea.  Avoid stupid DIY ideas like this one at all costs.  They'll ruin your room and make your guests seriously question your sanity.
---