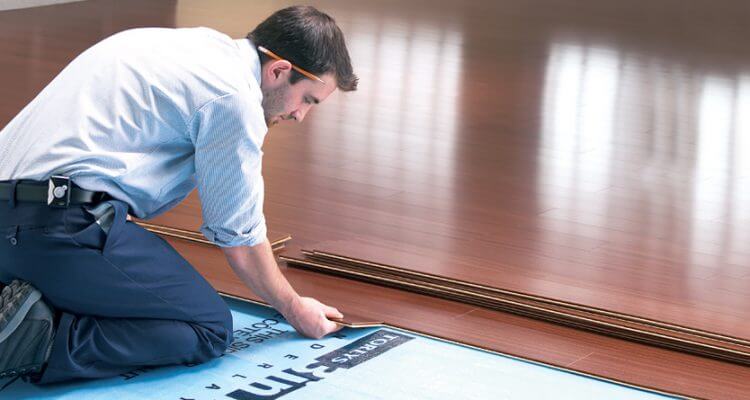 Professional vs. DIY flooring installation: Hire a Pro or Make it Your Show?
After deciding on which new floor to buy, homeowners are then faced with yet another big decision to make: do they install the new floor themselves or hire the dealer to do it for them?
If you chose a TORLYS floor over another brand, you made a wise decision. That's because TORLYS floors—all TORLYS floors—are designed to be extremely easy-to-install, which means that no matter your choice, professional or DIY, installation will be less stressful than you think.
TORLYS floors are created with a unique design feature that makes it easy for floorboards to fit together. TORLYS patented Uniclic® joint technology allows you to quickly click planks into place. Typically, the only tools you will need to install your TORLYS floor is a hammer, tape measure, saw (table or hand will do) and the TORLYS Installation Kit.
If you are leaning towards installing your new floor yourself, TORLYS has a variety of online tools to help you every step of the way. Whether you want to watch a professional install a floor or read instructions as you go, TORLYS has a resource for every style of floor they sell. Just visit torlys.com/residential/resources/installation-instructions/, scroll down and click on installation videos or installation instructions.
Included in your TORLYS Installation Kit is the TORLYS Bulldog Tool. Unique to TORLYS, this tool is one you won't find in any other toolbox. Initially, you'll use it to install flooring end pieces that are cut on an angle. Over time, it'll benefit you in a number of ways:
Close open floor joint gaps
Fix sub-floor hollow spots
Gain easy access to the underlay
Check your floor's perimeter expansion gaps
The TORLYS Bulldog Tool also has another very beneficial function: it allows you to replace a plank without having to rip up your entire floor, even if that plank is in the middle of the room.
If you're not a weekend warrior, TORLYS dealers are experts at installing TORLYS floors, and the preferred choice for installation for many reasons. Since they are experts, TORLYS dealers know how to handle any issues that could arise during the installation process. Plus, it's less likely that there will be any issues if a dealer is handling the installation.
Another plus to having a professional install your floor is that they come with all the tools, and then some. You will never have to worry about getting the right saw or tools to install the baseboards, which can be tricky. You may also need specialized tools if the room you are installing the floor in is uniquely designed.
Time, warranty and type of flooring are also deciding factors. A professional installer will typically install a TORLYS floor faster than an amateur installer, and the TORLYS warranty includes the cost of labour, but only if the floor was professionally installed.  Finally, some flooring types are easier to install than others, but a TORLYS dealer knows how to install all of them without causing damage or a major mess.
If you're still on the fence about having a professional install your floor, talk to your TORLYS dealer about your concerns, which may include cost of installation. They can answer all of your questions and may even provided a helpful tip or two.
---