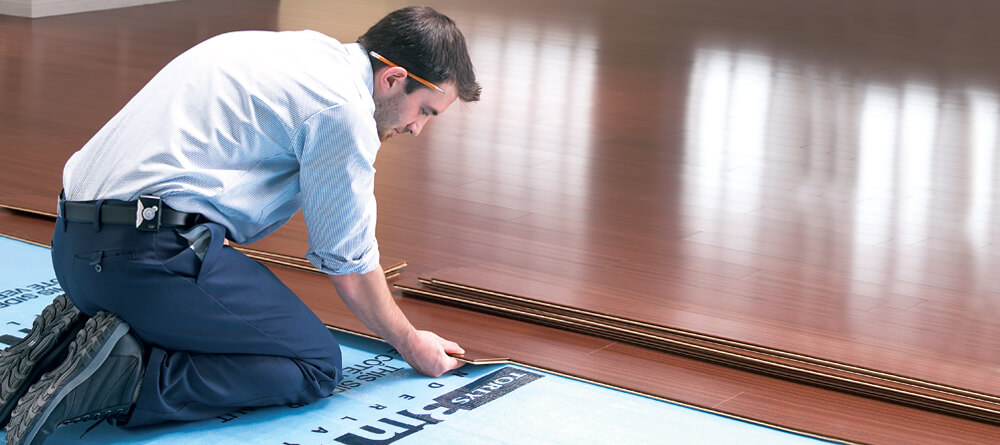 Professional vs. DIY flooring installation: Hire a Pro or Make it Your Show?
After deciding on which new floor to buy, homeowners are then faced with yet another big decision to make: do they install the new floor themselves or hire the dealer to do it for them?
First, there are three things that you need to be sure of when making your decision.
What is your skillset?
How much time do you have to get your floors installed?
What is your budget for new floors?
You shouldn't base your decision off one of these questions on its own, as they all tie together in the end. For now, let's take a deeper look at them individually.
What to Consider When Deciding Between a DIY or Hiring a Professional
Your Skillset
Many people think starting a project on their own will be simple and they'll have a beautifully renovated home on a budget. But depending on your skillset and the floor you've chosen, this is not always the case. If you're not experienced with floor installation, doing this project on your own can potentially cost you a lot of time and wasted effort.
Besides taking your own skills into consideration, read reviews on the flooring you've chosen. Are they typically easy to install, or is professional installation recommend? Take this into account before making your decision.
If you're looking for an easy-to-install floor, our unique TORLYS patent Uniclic® joint technology makes fitting floorboards together a breeze. Typically, the only tools you will need to install your TORLYS floor is a hammer, tape measure, saw (table or hand will do) and the TORLYS Installation Kit.
The Amount of Time You Have
If you're rushing to get your renovation over with as soon as possible, a professional installation may be a safer option. Since professionals have to maintain a schedule to keep up with client demand, your project is less likely to drag on for months. Professionals are also experienced, making the job an everyday task that comes naturally to them.
If you have a lot of time on your hands, a DIY could save you some money to spend elsewhere. If you are highly skilled or have friends to give you a helping hand, the project could be finished quickly. On the other hand, if you're the type to procrastinate or make mistakes along the way, paying for an expert's work will save you lots of time.
Your Budget
Hiring a professional to complete a project costs money because you're paying for their hard work and time. If you have a budget set aside for labour, hiring an expert can make your life a lot easier, especially if your dealer is handling the installation. They will come equipped with the appropriate tools, the floors, and the know-how to approach issues that may arise.
If you're looking to save money on your renovation, a DIY is a great place to start. DIY expenses typically require the cost of supplies (the floors you order) and tool rentals, assuming you don't have the specific tools that professionals would carry.
Either way, remember to factor a contingency into your budget.
Final Words of Advice
Know what you're getting yourself into, know what you're capable of, and do what's best for you. If you're still on the fence, talk to a TORLYS dealer . Tell them your budget, and what you're looking for. They'll be able to answer all your questions and recommend which floors are best to do on your own,. They may even provide a helpful tip or two on how to do the installation on your own.
---