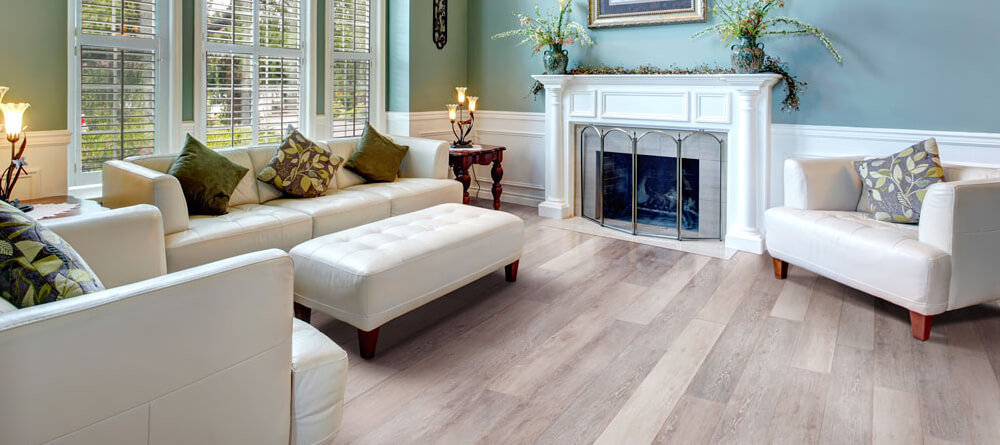 Luxury Vinyl Floors: Stylish, Sophisticated & So Much Better Than Ceramic
Luxury Vinyl Tiles are the newest trend in flooring, and are much better than the traditional ceramic!
Most modern homes feature ceramic tile in familiar places—entryways, kitchens, and bathrooms. Ceramic tile looks sophisticated and is extremely durable, but it does have its flaws.
Ceramic Issues
First, it's cold. Stepping out onto a chilly ceramic floor after a nice warm shower is a rude awakening, and making breakfast for the family while standing on cold tile doesn't exactly make for a good morning either.
Second, ceramic tile is also uncomfortable. After a hard day's work, the last thing you want to do is step out of your high heels and onto a hard, stone floor in your foyer. Furthermore, while ceramic tile is incredibly durable, it's not indestructible. If you drop a cast-iron skillet or the top of the toilet tank onto a tile, it could crack. And replacing that one cracked tile means replacing the entire floor.
Finally, ceramic tile must be installed with grout, which can be complicated. Not only is it messy, if grout is not applied correctly it can ruin the look of the tile. Maintenance is another problem. Keeping grout stain-free especially in the kitchen and bathroom is near impossible. No matter how well you take care of it, grout will eventually haze, crumble or even crack over time.
Alternatives to Ceramic
There is an alternative to ceramic that looks just as good but feels much better.
Luxury Vinyl Tile
Luxury vinyl tile (LVT) is the newest trend in flooring—a must-have for design-savvy homeowners. As the name suggests, LVT floors look like elegant ceramic floors but have many more benefits. Warmer and softer than its stony counterpart, LVT tiles are ideal for rooms where you spend a lot of time on your feet, e.g., the kitchen.
Styles
LVT floors also come in a number of styles, including stone and wood finishes. You can mix and match textures to create a truly unique and memorable look. The design combinations are endless, and the best part is your floor will look like real hardwood, ceramic and stone. State-of-the-art technology gives these tiles realistic graining and textures which means you don't have to choose between beauty and comfort any longer.
Durability
You also don't have to sacrifice durability. LVT flooring is naturally water-proof, easy-to-clean as well as scratch, stain and dent resistant. Plus, if an area gets damaged, you don't have to live with the broken tiles or replace the entire floor. Using TORLYS Bulldog tool, you can replace one tile at a time.
Installation
Luxury vinyl tile flooring can also be installed without grout. The installation mess is virtually non-existent and maintenance is easier. Gone are worries about how to restore your grout to its natural colour or stains ruining the look of your floor. Plus, most LVT floors are treated with a stain-resistant overlay that protects against markers, spaghetti sauce, red wine, hair dye, etc.
Versatility
Finally, you can install LVT floors anywhere in your home—kitchens, bathrooms, front halls, family rooms, bedrooms, and even basements. Due to its warmth, durability, ease of maintenance, and water resistance, LVT is one of the most versatile flooring options on the market.
Exceptional performance, exceptional looks—luxury vinyl tile flooring is a fashionable trend that's here to stay.
Click here to view TORLYS line of EverWood & EverTile Floors
---