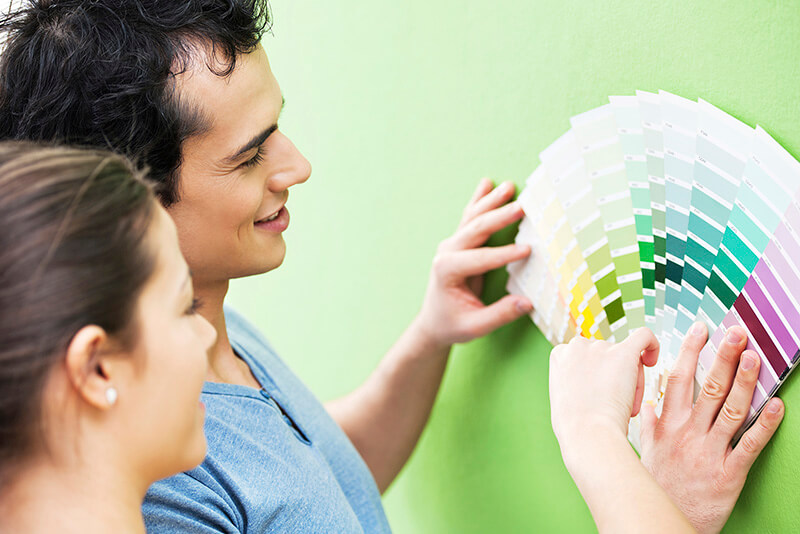 Back to the Future: Upcoming Trends in Home Décor for 2016
Design trends for 2016 are looking ahead to the future while paying homage to a decade that produced memorable fashion, fabrics and style icons.
Colour palettes that will have you reminiscing about shoulder pads, Lycra and legwarmers.
Spaces that are equipped for cutting-edge technology, and inspired by it.
Ingenious designs that do double-duty and feature sustainable materials.
Design trends for 2016 are looking ahead to the future while paying homage to a decade that produced memorable fashion, fabrics and style icons. Buckle up, you're about to go back (and forward) to the future of home design and decor. 
Bold is Beautiful
Bright greens, moody blues and dramatic blacks will give spaces a glamorous, sophisticated feel this year. In fact, fabrics featuring florals on a black background are making a comeback, and they are not the only trend from the '80s we'll be seeing in 2016.
Neon and clashing colour hues, soft pastels and Memphis-style pieces will be prominent this year. The '80s are also inspiring kitchen re-designs in the form of mirrored backsplashes and high-gloss surfaces. However, this '80s fad will be more elegant and less kitschy than its predecessor.
Tech Savvy
Our favourite technology is finding its way into our favourite spaces. New York designer Wesley Moon believes that this year's must-have furniture will be inspired by the sleek curves of the iPhone. Fellow designer Timothy Corrigan agreed, "Who doesn't want to rub their hands along a smooth, rounded piece of marble? Touch is essential to design."
Kitchens are also receiving a digital makeover. Top designers expect that a foodie's favourite place will be redesigned with the digital chef in mind. "Look for areas with hidden charging stations to store devices like phones and tablets so that they are always operable, at hand and charged," predicts interior designer Jane Lockhart.
While tech may be trending, the industrial design revolution is over according to Joe Lucas of Lucas Studio. Exposed mechanical details and rustic metals, save for black stainless steel and metals, are on their way out. As Lucas puts it, "Enough of looking like we are living in the garage."
Integrated Spaces
Today's homes are more open—walls no longer separate vastly different living spaces. Design elements must be versatile enough to work in a living room as well as a kitchen, and flow from one area to another. Flooring is especially important. It must be able to withstand spills in the kitchen, life in the living room and look good doing it.
This seamless functionality is also finding its way into another, unexpected space—the bathroom. Where clutter was once king, plush chairs, benches and living room furniture will now reign supreme. Bathrooms in everyday houses will be transformed into relaxing retreats. A change from traditional tile flooring is also in order if you want to create a personal oasis in your home.
Naturally, My Dear
Natural components are key elements for designers this year. Reclaimed and salvaged woods along with recycled materials will continue to be popular in 2016. Designer Sara Story is looking forward to the Brazilian Modern trend that will incorporate "beautiful sculptural forms and the use of raw materials and exotic woods."
Cork and marble are making a comeback while botanicals are gaining space indoors. Urban gardens and lush greenery are finding their ways into living rooms and bathrooms. Tropical leaves will be featured on everything from printed textiles to door knockers. However, the key is to mix natural materials with metals and textiles to create a personal, individual look.
In fact, personal taste will be a dominate trend in 2016. If you love a certain piece of furniture, painting or style, 2016 is the year to go with it. Designer and author Jonathan Adler agrees, "The best trend I'm seeing is people forgetting about the 'rules' and loving what they love unapologetically."
Sources:
http://www.newsobserver.com/living/home-garden/article52275655.html
http://www.vogue.com/13380460/interior-design-trends-2016-shopping/
http://www.interiordesign.net/articles/11310-design-forecast-10-trends-to-watch-for-in-2016/
http://www.elledecor.com/design-decorate/trends/news/g2873/interior-design-trends-2016/
http://interiorzine.com/2015/09/02/interior-design-trends-2016/
http://www.mariakillam.com/trending2016/
http://www.lushome.com/modern-interior-design-trends-2016-stay-go-away/160756
http://www.wsj.com/articles/top-5-interior-design-trends-for-2016-1451423833
---