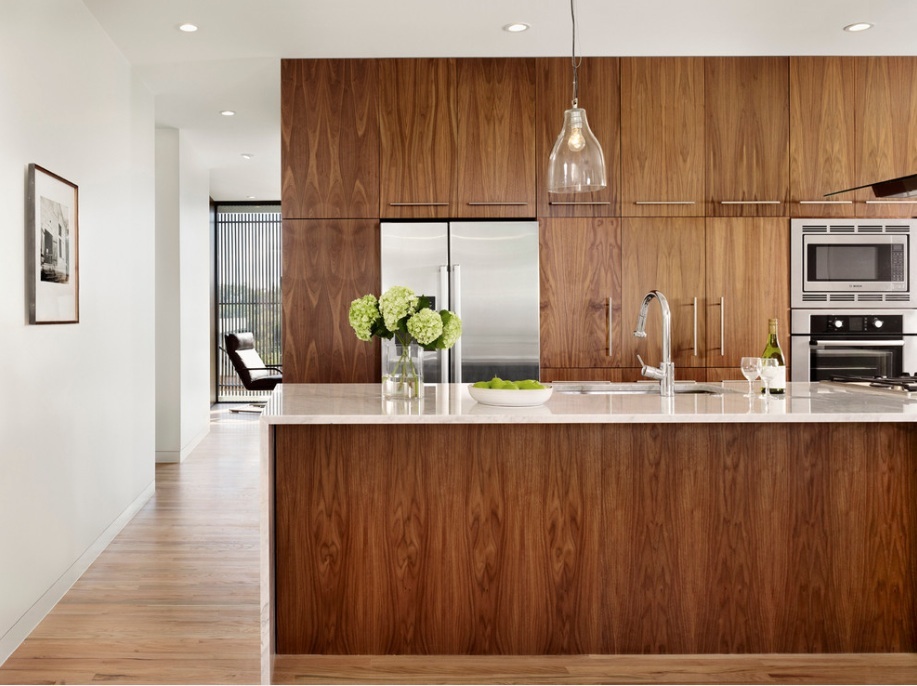 Spice Up Your Kitchen With These Design Ideas
Looking to bring some life into your home? Try updating your kitchen with some unique design ideas. Whether you're looking for a sleek minimalist look or a cozy rustic design, there are always new and exciting ways to spice up the heart of your home.
Check out these modern, on-trend kitchen designs that will help you build the kitchen of your dreams.
The Kitchen Fireplace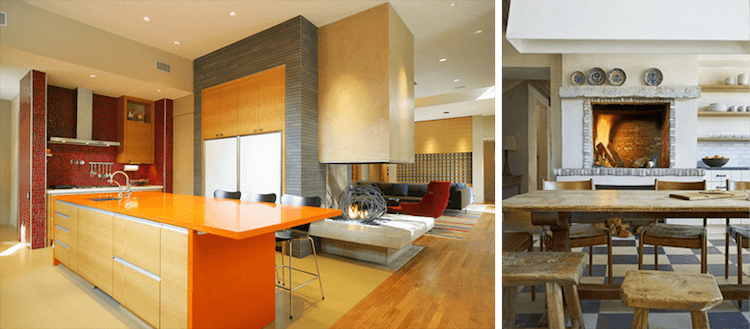 Image Sources: Houzz, The Kitchn
While fireplaces are usually placed in living rooms or master bedrooms, we've recently come across them in kitchens — and we love it! Why wouldn't you want to make your kitchen an inviting space? If you prefer a modern design, choose a fireplace with clean, smooth finishes and crisp angles (see above) instead of a classic brick design which would provide a more rustic look and feel.
TORLYS Flooring Tip: Choose CorkWood flooring to continue the warm and cozy feeling throughout your kitchen.
The Overhanging Island (with barstools)

An open-concept kitchen may include a living room or dining room, and a simple island with an extended counter for barstools is a great design choice for such a room. The barstools stay out of the way for cleaning and meal prep but are easily accessible when you want to eat meals or socialize in the kitchen.
TORLYS Flooring Tip: Add even more visual length to your kitchen by choosing flooring from the EverWood Designer collection. The long planks are durable and make kitchens look expansive.
"Slender Tech" Pendant Lighting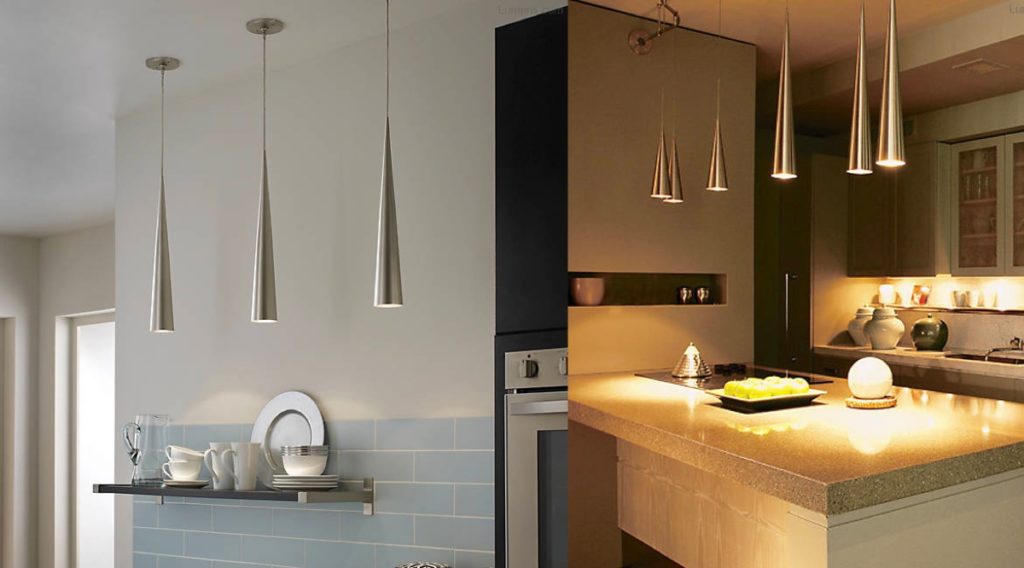 Changing your light fixtures is a budget-friendly way to update a space, especially if you add these "slender tech" pendant light fixtures. They make a great addition to your kitchen because they add an inviting soft glow without cluttering your view and the thin wires almost disappear overhead. "Slender tech" lighting works especially well with high-rise ceilings. They bring light closer to kitchen surfaces without drawing attention away from the rest of the room.
TORLYS Flooring Tip: Keep your flooring sleek to match your slender tech and choose from the Colossia collection. These clean and contemporary floors have extra long planks in a soft palette of shades. 
Image Source
Smart Appliances

Smart appliances are the new modern "must-have" for today's kitchens. Smart ovens, coffee makers, dishwashers, refrigerators, and even countertops are now available. They typically connect to your smartphone so you can preheat your oven on your way home from work, or even brew your coffee from your bedroom. If you're looking to replace one of your appliances, do your research and consider making a "smart" decision this season.
TORLYS Flooring Tip: Make another smart choice for your kitchen and install Smart Hardwood. Our Everest Twist collection is a smart way to achieve a timeless look with faster, easier and cost-effective installation.
All-Wood Cabinetry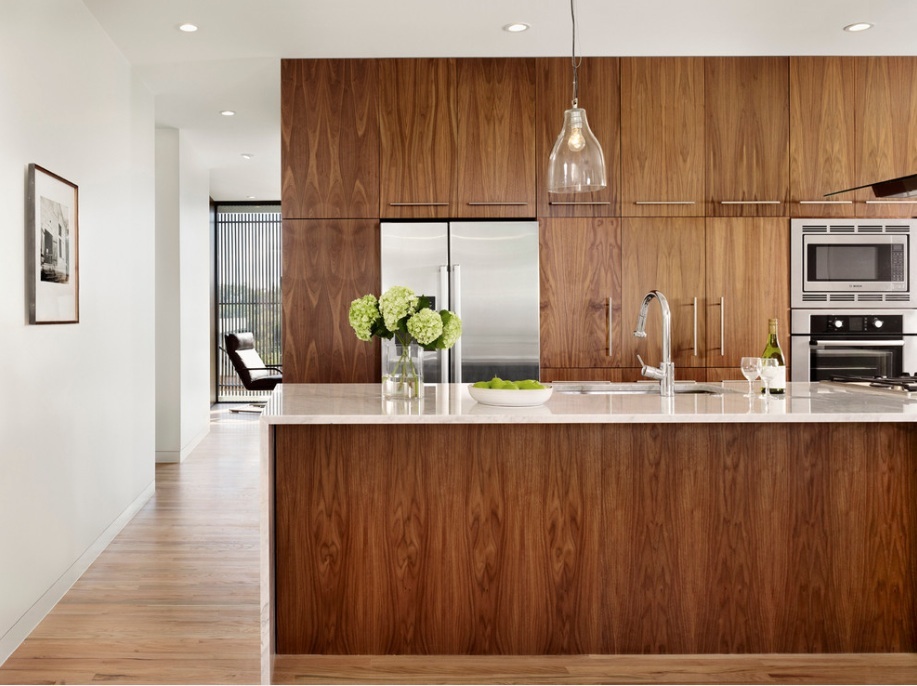 Using wood-only cabinetry is a great way to give your kitchen a warm, natural feel, especially with white walls and upper cabinets (like the photo above). All-wood cabinetry offsets and complements the cold look of stainless steel appliances, and still achieve a sleek, modern look.
TORLYS Flooring Tip: Complement wood cabinetry with SuperSolid hardwood flooring. The natural colours in the hardwood keep your kitchen elegant and classic.
 Concrete Countertops

Thick, polished concrete countertops have a refined look and work well with deep basin sinks. They are incredibly sleek, modern look but can be warm at times as well. They are also an absolute breeze to clean up. If you're not too sure about the concept, we recommend trying them out on islands or side countertops because they can be a cheaper alternative than choosing traditional marble.
TORLYS Flooring Tip: Install EverTile Premier flooring to enhance the modern design of your kitchen with stunning stone visuals.
Stone Wall Backdrops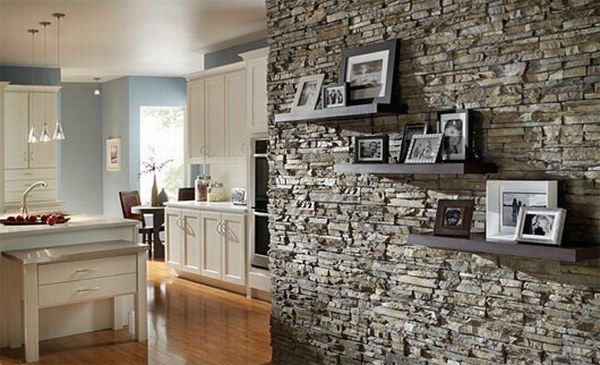 Is your kitchen filled with brand new appliances and beautiful countertops but lacking the rustic feel that you want? Stone wall backdrops are a great solution to incorporating depth and warmth in a space and while adding a rural touch to you a new-age kitchen. Just a little bit of stone can transform a space and give it a new look and feel.
TORLYS Flooring Tip: Add more rustic character to your kitchen by installing Artisan Premier Smart hardwood flooring. This collection provides the right balance between old-time charm and classic design.
Thick Open Shelving

Open shelving really opens up a space to make it fresher. They allow you to showcase the pieces you're proud of and make it easy to access your most frequently used items. The clean lines make a design statement and make a space look bigger. Just remember to keep your belongings organized! You can't hide all your clutter behind cabinetry when you have open shelving.
TORLYS Flooring Tip: Use TORLYS Envique laminate flooring in a kitchen with open shelving to add to the unique details. Envique laminate has textures and colours that are sure to capture attention.
Adding fresh, modern details to your kitchen can take it from dull to exciting. If you'd like to learn more about TORLYS Floors, send us a message on Twitter or Facebook or contact a TORLYS dealer to learn more.
---