A Cleaner Floor Starts with TORLYS
Cleaner Floors by TORLYS answers call for antimicrobial flooring protection.
TORONTO, ON – May 2021 – TORLYS, a global flooring company specializing in beautiful, responsible flooring solutions, is thrilled to announce the launch of Cleaner Floors by TORLYS, a campaign focused on educating consumers on how to protect their flooring investment with antimicrobial product protection that helps keep floors 99% cleaner between cleanings, 24/7.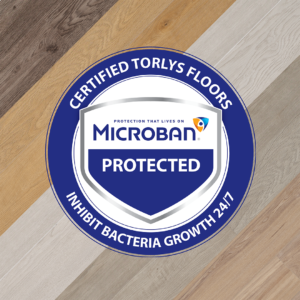 With the need for a cleaner home more important now than ever before due to Covid-19, it has become more critical to think about solutions for the area that retains the most bacteria right under our feet, flooring. As part of a decade-long partnership with Microban®, the global leader in antimicrobial technology, to provide innovative flooring solutions that contribute to a cleaner space, TORLYS is expanding on this commitment by offering its revolutionary built-in antimicrobial protection on most TORLYS Smart Floors.
"We are excited to showcase our antimicrobial flooring coverage through Cleaner Floors by TORLYS, where we will highlight how each of the antimicrobial features inhibit the growth of bacteria, mold, and mildew to provide customers with a floor that stays cleaner for longer," says JF Pelletier, TORLYS Director of Product Management, adding, "While you can't always prevent bacteria from entering your home, you can have peace of mind knowing you are proactively protecting your floor with antimicrobial technology."
In the middle of the floor is TORLYS™ Smart Core with Microban® ensures the core remains protected from product degrading bacteria. Underneath the floor, CorkPlus™ Blue & FoamPlus™ Blue Underlays with Microban® protect the areas you can't see and helps prevent mold and mildew under the floor.
To help explain each value-added antimicrobial offering available in most TORLYS Smart Floors, visit the Cleaner Floors by TORLYS landing page at  https://residential.torlys.com/cleaner-floors/ which includes background on antimicrobial technology, graphics on how it works on applicable layers, FAQ, as well as a News section with recent media features and blogs.
ABOUT MICROBAN
Part of Barr Brands International (BBI), Microban® International is a global specialist in antimicrobial, odor control, smart surface and disinfection technologies. Our proactive systems keep products cleaner, and control odors better by preventing problems before they start. Microban drives innovation by combining science and creative solutions that enhance high-quality consumer, textile, industrial and medical products around the world. Today the Microban brand and technologies are featured on thousands of products worldwide. The company is headquartered in North Carolina with operations in North America, Europe and Asia Pacific. For more information, please visit www.microban.com.
ABOUT TORLYS
Headquartered in Toronto, Ontario, TORLYS is a global flooring company that specializes in providing beautiful, responsible flooring solutions. TORLYS has been creating and delivering innovative flooring solutions to homeowners, builders, and property managers, using the latest technologies since 1988.
For further information, contact:
Leah Robinson, Digital Marketing & Promotions Manager
Email: Leah.Robinson@torlys.com Phone: 905-696-2399
---